At Prospect Labs we try to make sure that every user is generating leads through automated LinkedIn campaigns.
We try to ensure that before a campaign even goes live you have:
If this is all done correctly then our goal is to make sure that you are always getting above 40% of your audience connecting with your and at least 20% of your audience replying to you. Below is a screenshot of my results I am actively running at the moment:
Outbound LinkedIn lead generation like this should be helping you to generate 20-30 leads per month per LinkedIn account if you are doing everything right, however, there is a completely different approach to generating leads also. This is what you will learn in the following blog:
LinkedIn My Network
LinkedIn lead generation is tough and for all of the great results that you will get that will lead to demos and sales, you will also get a number of people who are completely against what you are selling and do not want to speak to you.
This is because the very nature of outbound lead generation is a 'cold approach' to finding someone who has no idea about you and you are trying to reach out to them.
There are ways to make your approach is 'warmer' such as:
However some of the best leads that you could ever get are from people that are actually connecting with you.
If you go to your LinkedIn profile and click 'My Network' you will see all the people that are wanting to connect with you: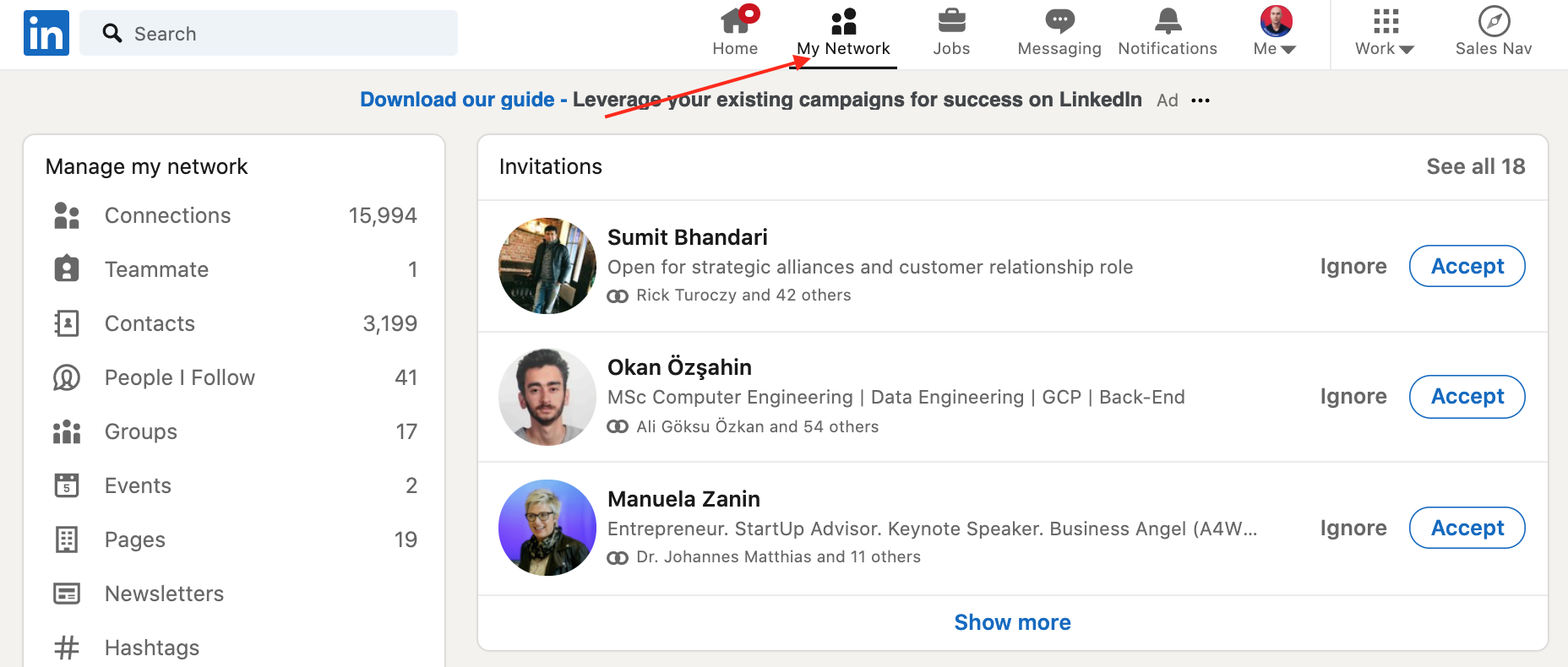 These people that want to connect with you can usually be broken down into two categories:
👋 People that want to be part of your network, learn from you, possibly work with you
💸 People that want to sell to you
"If you think of the core basis of sales, it is to build a relationship with a person, get to know them and see if you / your service / your product can help them"
This is why every person who is wanting to connect with me I see as a potential opportunity.
Making your LinkedIn Profile Public
To be able to get more people wanting to connect with you, it is important that you are making your LinkedIn profile more visible so that people can find you.
One of the easiest ways to do this is to ensure that your LinkedIn profile is public to everyone. If you imagine how many online zoom calls, webinars, online networking events that you are doing, many people will remember your name but not your business.
👀 The first thing they will do after the call (or even sometimes during the call) is to google your name. If your LinkedIn profile is optimised correctly then the very first search result should be your LinkedIn profile. If you google my name 'Patrick Collins' you should find this:
Yes, I was born in Oman and used to be a professional footballer as well but that's another story...😀⚽️
To make sure this happens, you can read this LinkedIn article on how to make your LinkedIn profile public:
LinkedIn Public Profile Visibility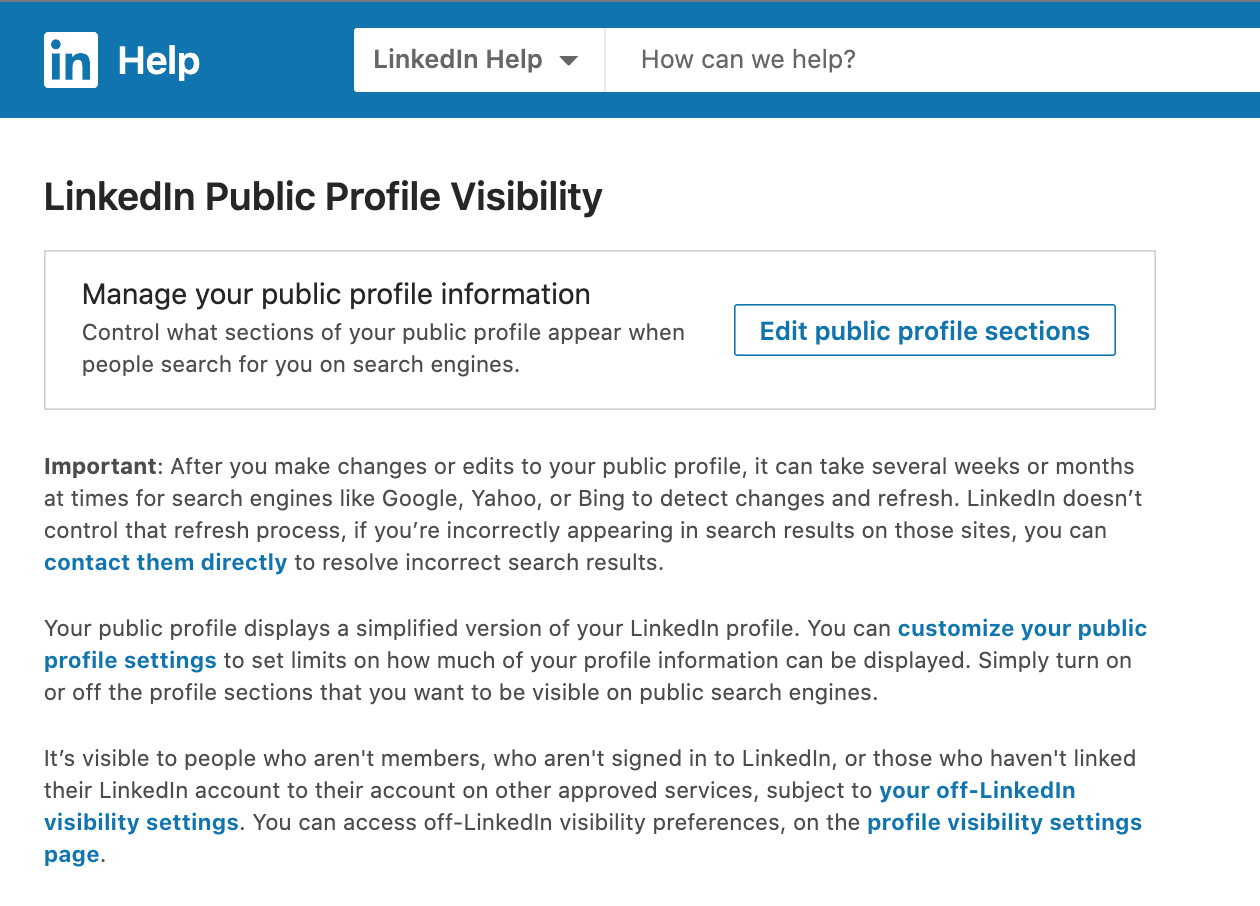 Now that people can find you publicly, the second step is to be more active on LinkedIn so that your network can see you.
Creating LinkedIn Content
One of the reasons I love LinkedIn lead generation more than cold email marketing is because even if your connections do not reply to your campaigns, they still become part of your network and see your posts that you make.
My approach to LinkedIn activity is simple:
👌 One time per week I will create a post sharing information about a new blog post that I have written
🙋‍♂️ Every day I check my notifications (see notifications) to see if anyone is talking about me. If there is anything, I simply interact with the post or share it to my network: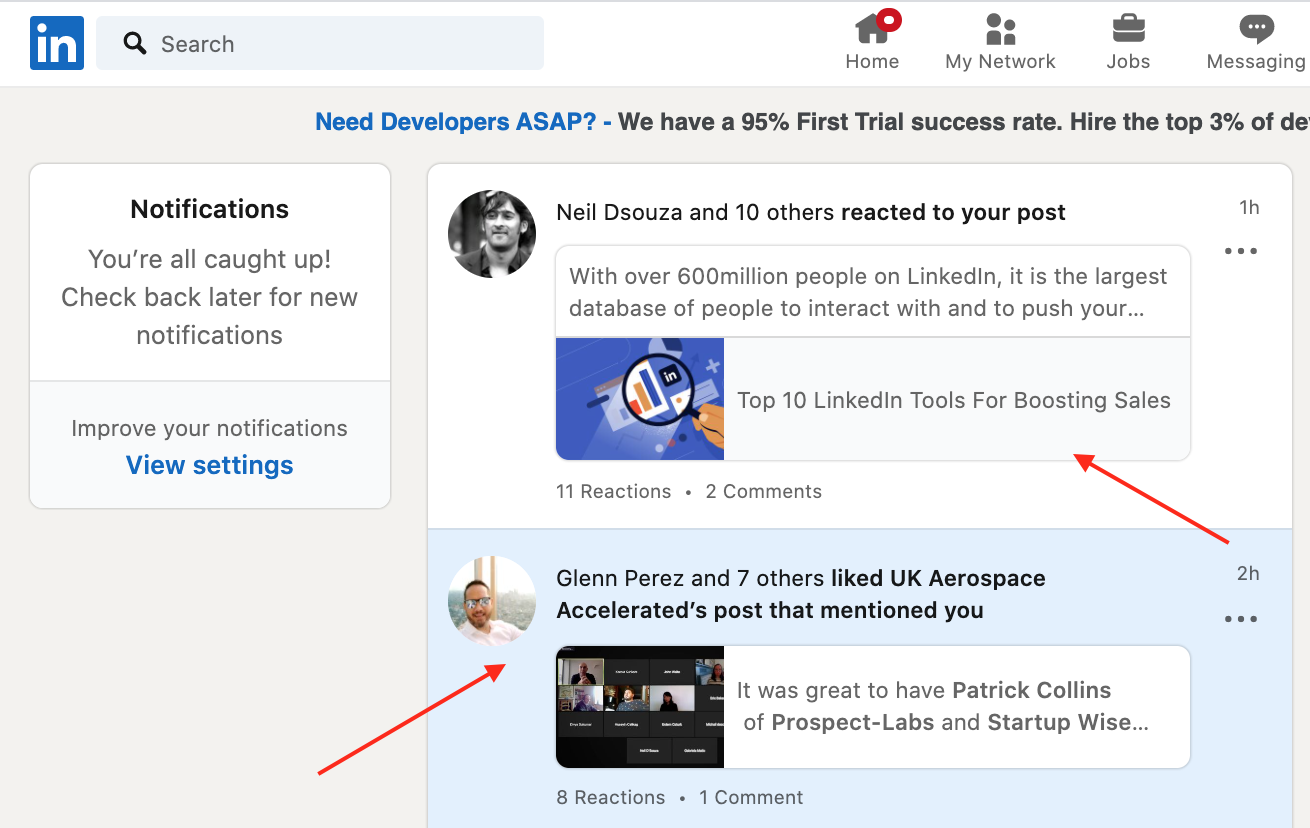 As my passion is with outbound lead generation, I know I could do a lot more with creating content and interacting with my network, however, I am often limited for time and honestly, I do not enjoy it too much. I much prefer one to one private conversations than public posts. However, I 100% see the value in doing it.
If you are looking for help in building your LinkedIn brand online and need inspiration on how to create posts I would recommend to talk to:
If you want to stick to the automated software to help you create social posts then have a look at Conversion.Ai. This is a new social media tool that will create automated posts for you 🤯
You could also look at Lempod or Podwaa for tools to automatically boost your likes and comments on your LinkedIn posts.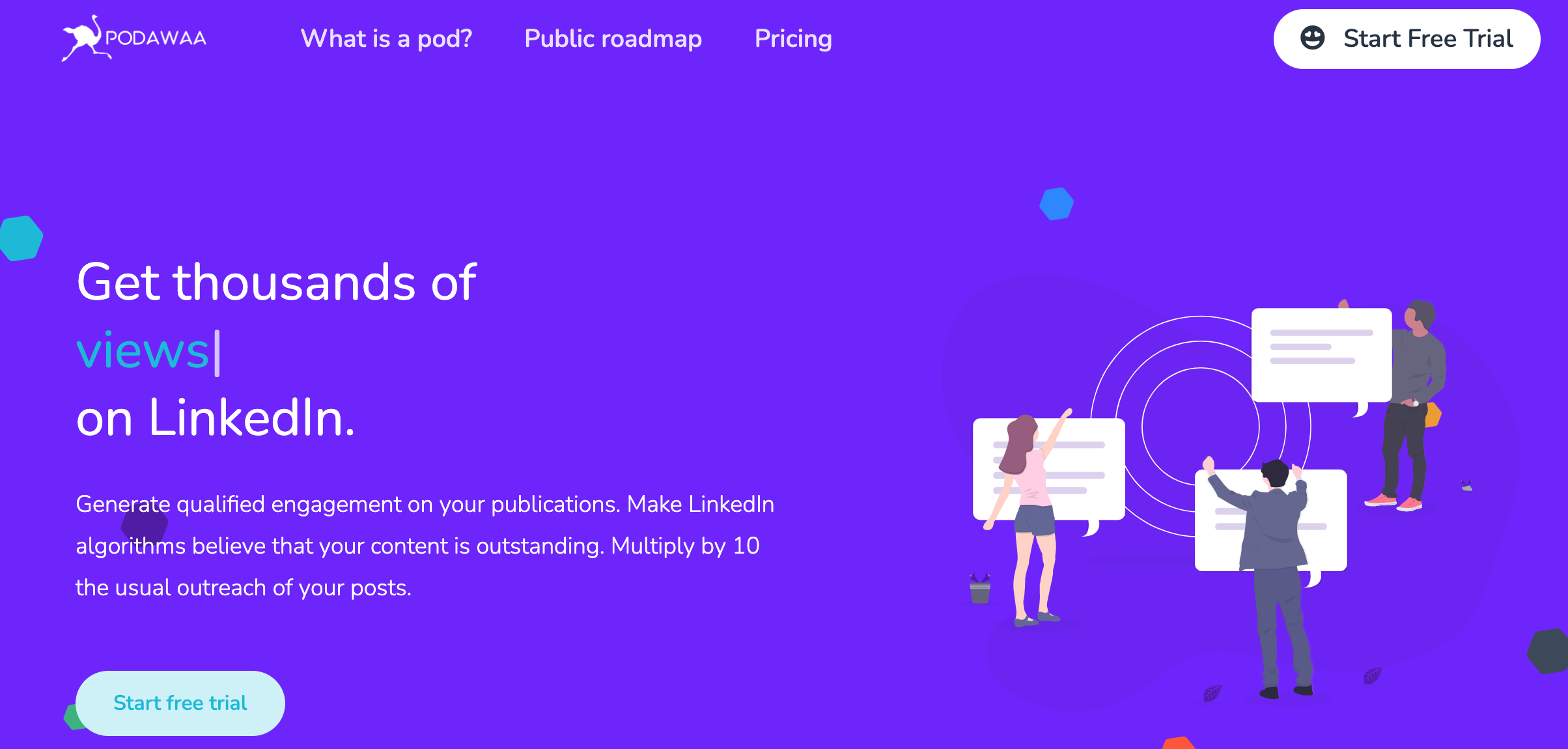 Viewing LinkedIn profiles
Sometimes you don't want to connect with a person, but simply look at their profile and let them know you are interested in them. If you go to 'notifications' on LinkedIn you will see updates on people who have been looking at your profile:
You can also go directly to 'Linkedin Profile Views' to see how many people have been viewing your profile and who has been viewing your profile: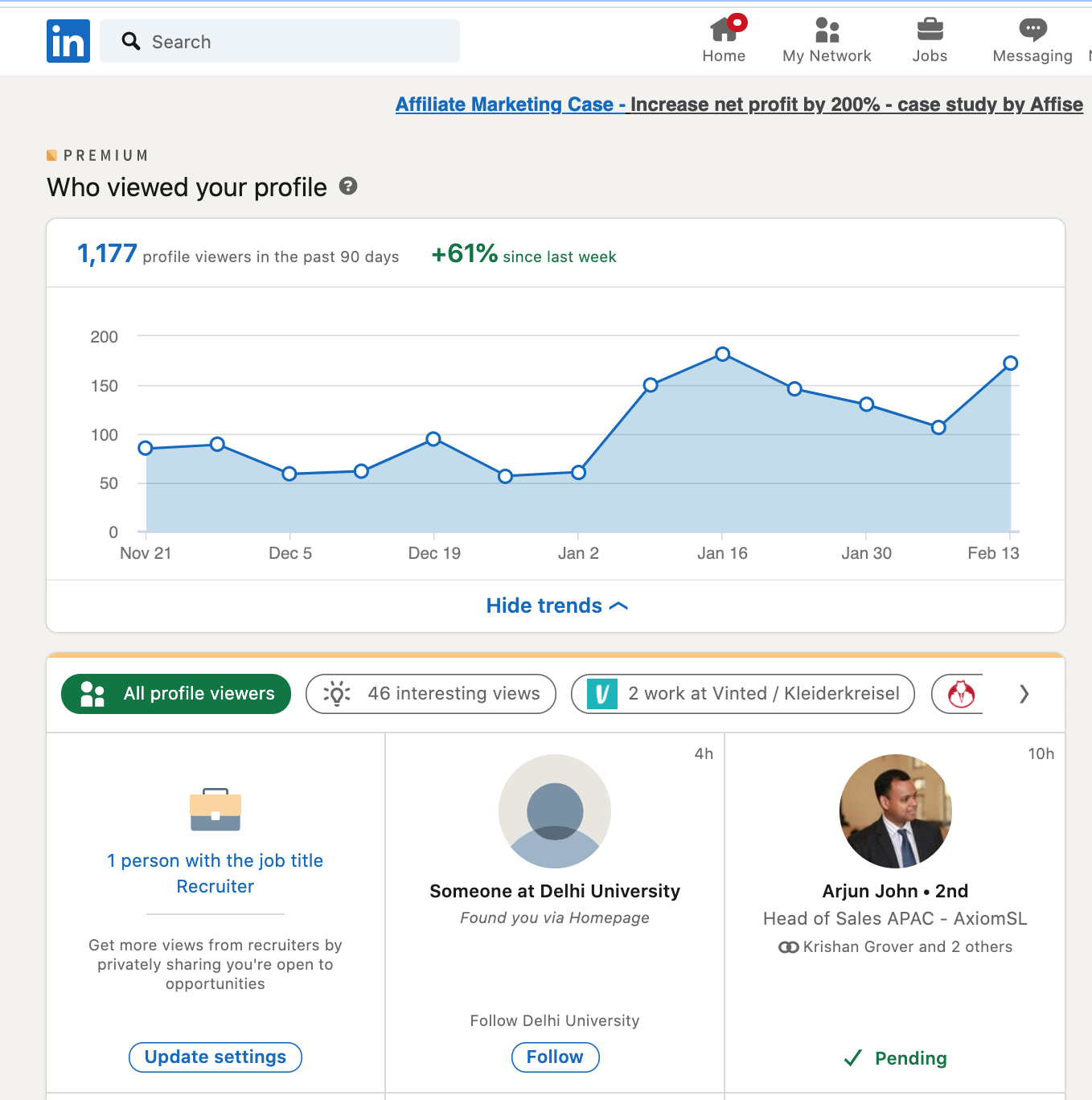 If you really want to dive deeper into the analytics of people looking at your LinkedIn profile then try Shield App: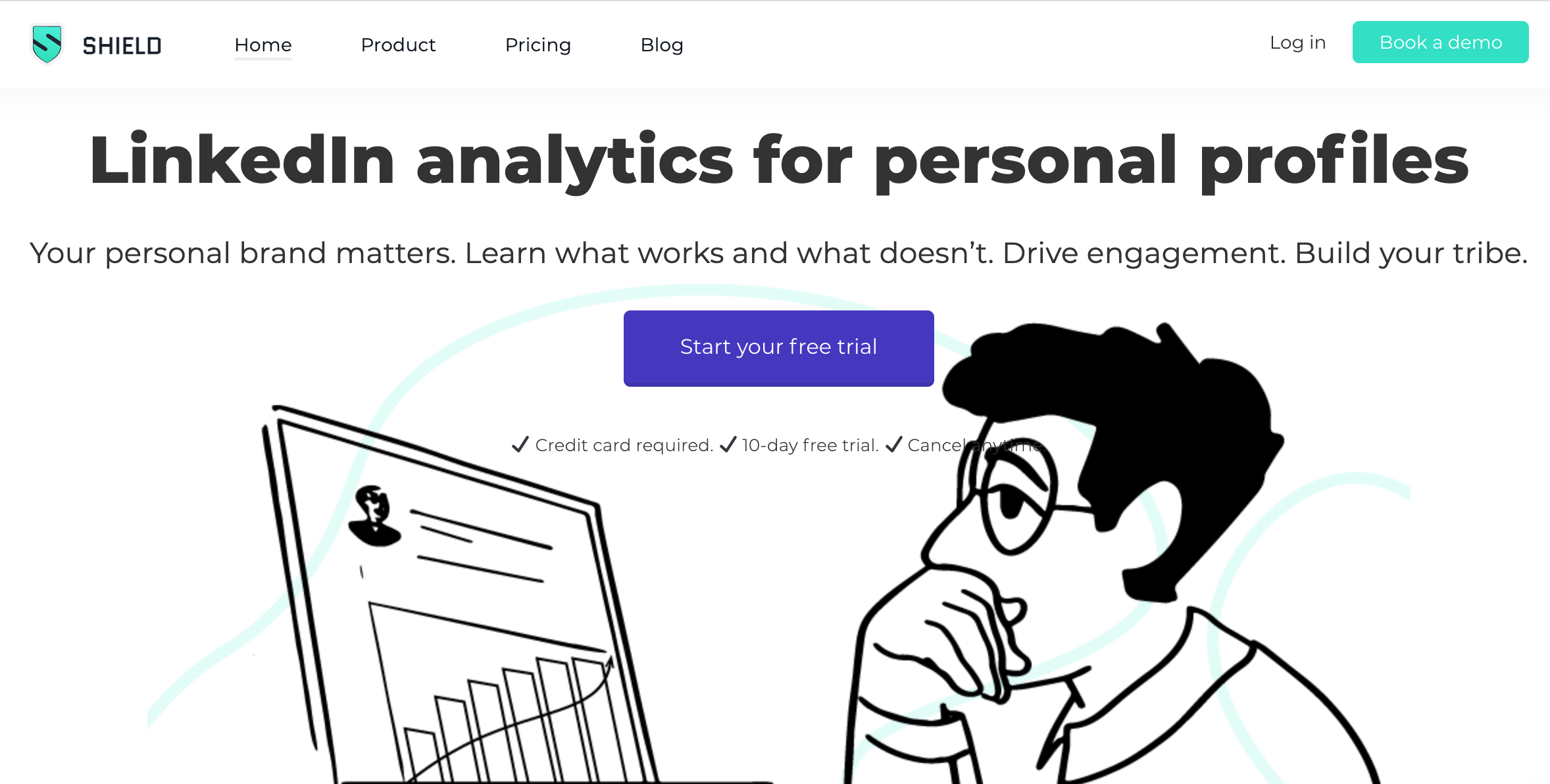 Now that you know the impact of what happens when you view a profile from the customer point of view, next step is to start viewing more profiles. There are many automated tools out there where you can do this, however, I don't recommend to do that approach.
📈 Outbound linkedin lead generation is about volume and consistency and so you can work with a larger audience
📊 Inbound lead generation is about focussing on very specific people that you may not want to connect with yet but just want to be on their 'radar'. This could be bloggers, investors, potential hires or potential large customers such as enterprise clients.
Simply look at their profile and the person will receive a notification that you have been visiting their profile in their weekly stats.
Often what will happen is:
The customer will see that you have looked at your profile
They will spend some time looking at your profile and realise that you could be a great person to get to know
They will send you a connection request
How to Automate Accepting LinkedIn Connection Requests
If you are visiting a lot of LinkedIn profiles, creating content and interacting with posts where people are talking about you, then you will start to receive a lot of LinkedIn connection requests.
Here is where you can start to be very smart and use automation in a way that nobody else is doing!
I often have around 25-50 connections per day of people wanting to connect with me and so this is my flow of what I do that turns a LinkedIn connection request into a potential customer with 0 manual work:
Use Phantombuster to Automatically accept Connection Requests
For an intro into how to get started with Phantombuster please read this blog first if you have never used it before (Using Phantombuster for lead generation). Once set up with Phantombuster go to:
If you already have your account set up then click: 'connect to LinkedIn', change number of invitations to accept per launch to '1' . Also, to keep the quality of the connection requests up, I also choose 'only accept invitations with a message' and ' 'only accept connect invitations with at least one mutual connection'.
I don't care if I know a person or not, if they are too lazy to send me a connection request then I will not connect with them:
At this point Phantombuster gives you an option to send a message as soon as you accept a connection request. I don't advise to do this as I am going to show you a better way to automate your process.
One very important step here is to make sure you click 'Keep all results in JSON' at the bottom of the page:
Click save and on the next page set it to 'repeatedly'.
I set it up to 8 times a day as I am happy to just accept connection request with messages and in my network and so 8 a day should be an acceptable number to keep on top of everything:
Click 'save' and then press 'launch' to test it out:

Phantombuster is now automatically accepting LinkedIn connection requests for you, meaning you never need to keep up with the work of accepting requests. This means that any potential inbound leads are going to be accepted before you even have a chance to check 😲
Using Zapier and Phantombuster to Run a Campaign to New Connections
The final piece of automation is to push all this information directly into Prospect Labs to run an automated campaign to your new connections.
To do this you will need to go to Zapier and click 'make a zap'. Give the campaign a name and choose 'Phantombuster as the first event' and choose ' Trigger Event' as 'New Output':
Click 'continue' and sync your Phantombuster account with Zapier then click 'continue':
Now you need to choose set up the trigger and choose 'LinkedIn Activities Extractor' and click continue: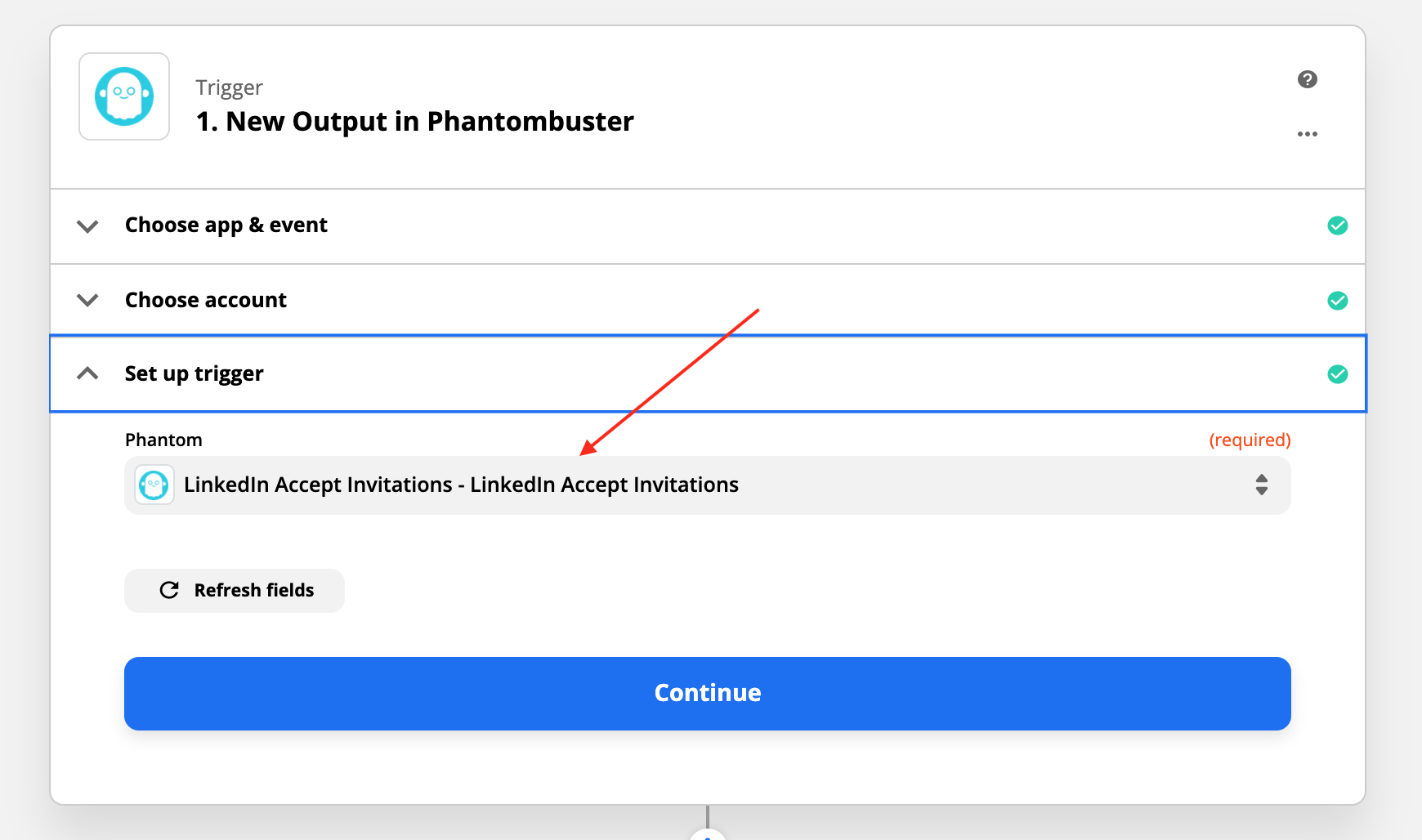 You will then see a message to test the trigger. If you test and Zapier cannot find any data don't panic. Just go back to Phantombuster and click 'launch' to manually run your LinkedIn Accept Invitations again, making sure that some data is pushed to Zapier.
Click ' Test Trigger' and you should see the results of the person you have connected with:
Click 'continue' and then choose 'Webhooks by zapier':
Then choose Action Event 'Post':
Click 'continue'. At this point you are automatically accepting LinkedIn connections via Phantombuster and pushing data to Zapier. Now we are going to push data from Zapier to Prospect Labs.
Before continuing with the next step on zapier, go to Prospect Labs and create a new campaign. Make sure you create a 'messenger campaign':
Once created go to 'Integrations':
Don't be scared here as this page will probably look like a different language to you. Just follow my steps: 🙋‍♂️
Firstly copy the 'url to use:
Now go back to Zapier and paste the url:
Next on Zapier change the payload type to 'Json':
Next we need to match the data (this is the data from the accepted LinkedIn connection request to push to Prospect Labs).
For data add the Prospect Labs placeholders 'profile_link' and 'first_name' so it looks like this:
final step is to match the data to 'profile_link' like this: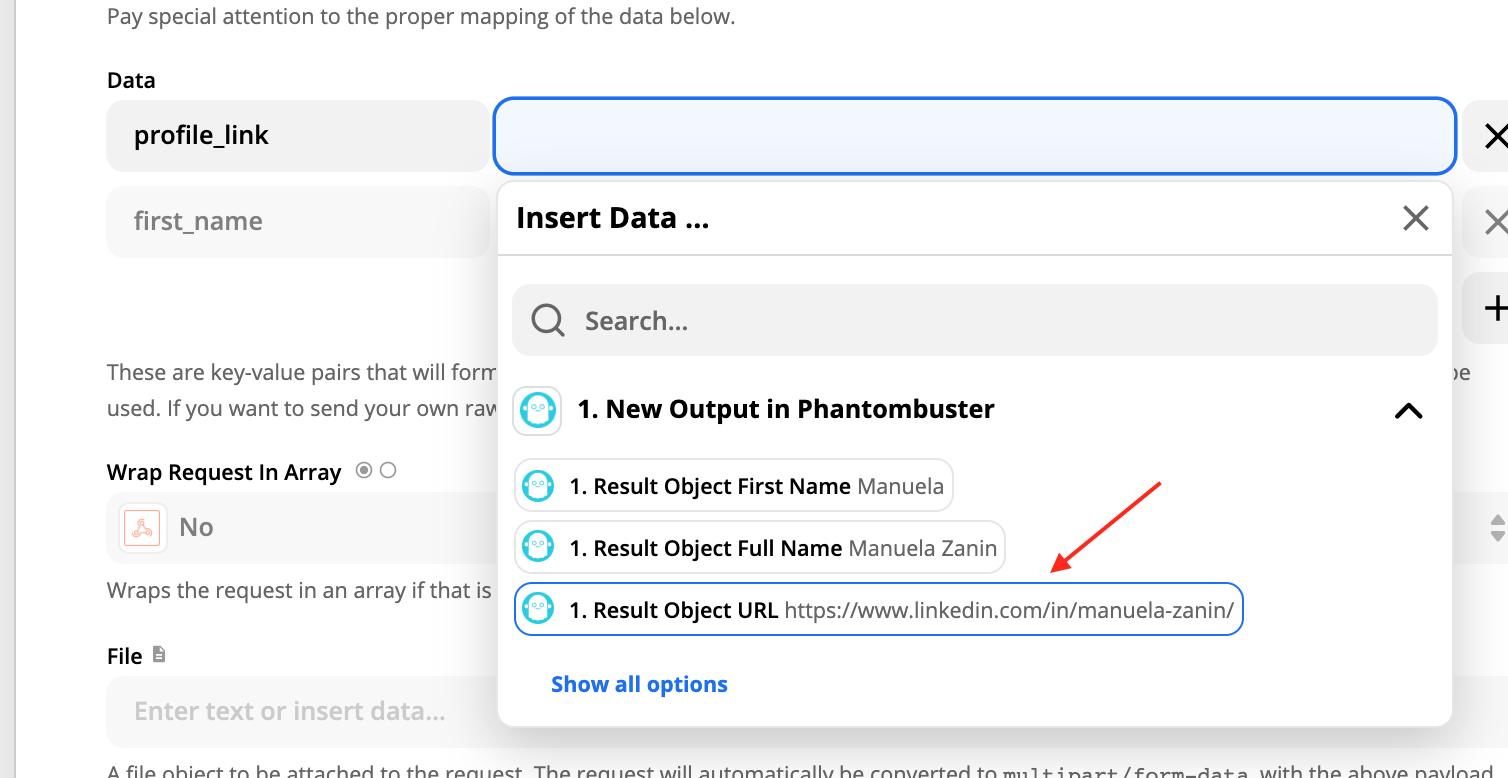 and then do the same for first_name' to look like this:
Final step is to scroll to the bottom of the page on zapier and click 'continue' until you see an option to 'test and review':
Click this and it will push data from Zapier to Prospect Labs. Go to the Prospect Labs campaign you have created, and now go to people and you will see the connection added to your campaign:
It may look a bit strange at first but don't worry about this. Before a message is sent to the connection Prospect Labs visits the profile and pulls in all data to update the profile.
Final step now this is working and data is going to Prospect Labs is to go back to Zapier and turn the campaign on :)
With Phantombuster switched on and Zapier switched on, all you need to do now is create a messenger campaign that will really engage with your new connection and get to know them.
Using our Hyperise.io integration (read more how to use Hyperise) I then create an automated message thanking the person for connection and inviting them to my Facebook Group:
Most people tend to reply at this stage and join my Group, however, if they don't reply I send another message 1 week later about a blog post that may help them: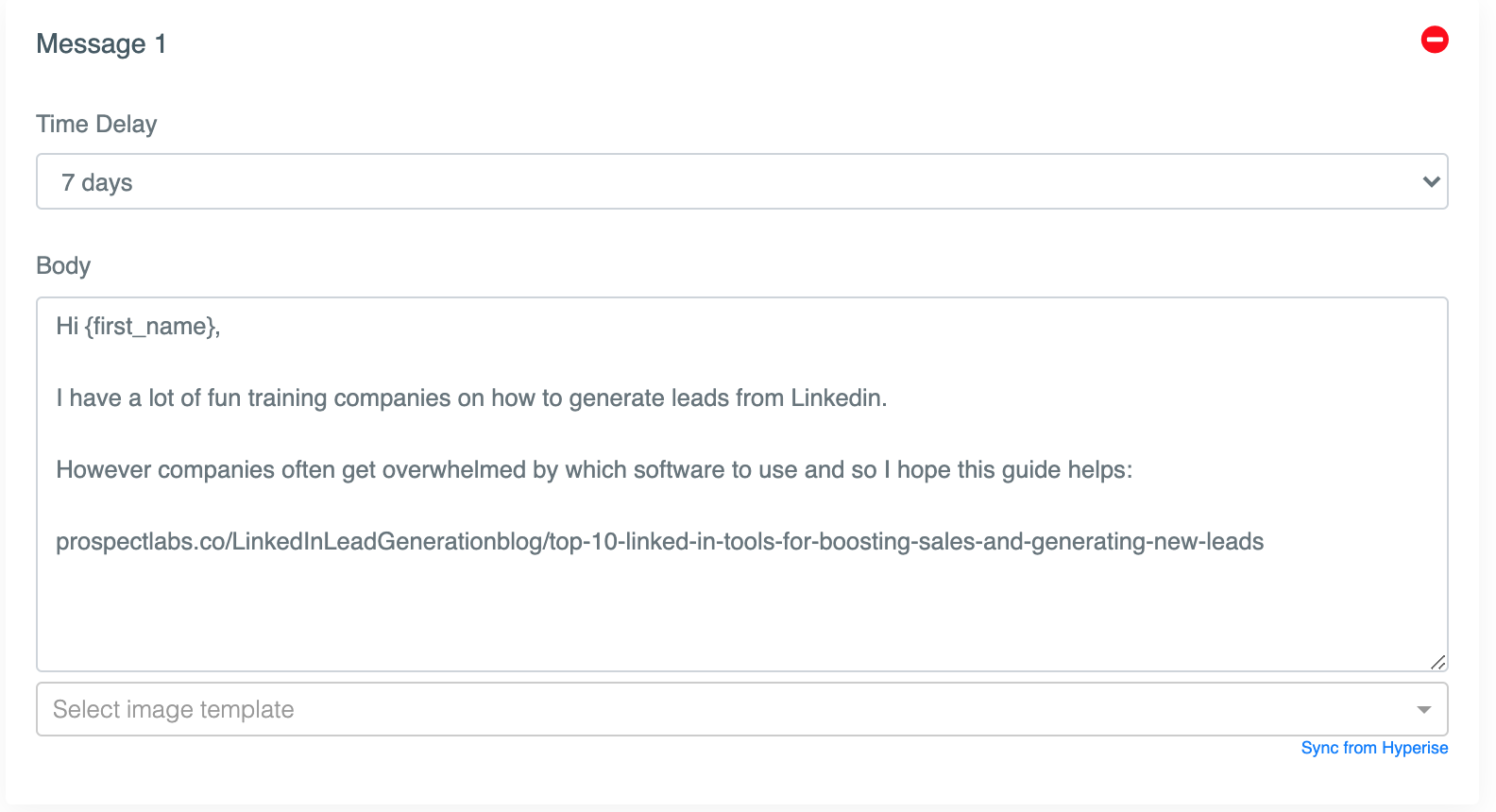 I don't use an image here as I want the person to focus on looking at the blog. Finally, if they are not responsive at all, 1 month later they get a message asking if they want a call: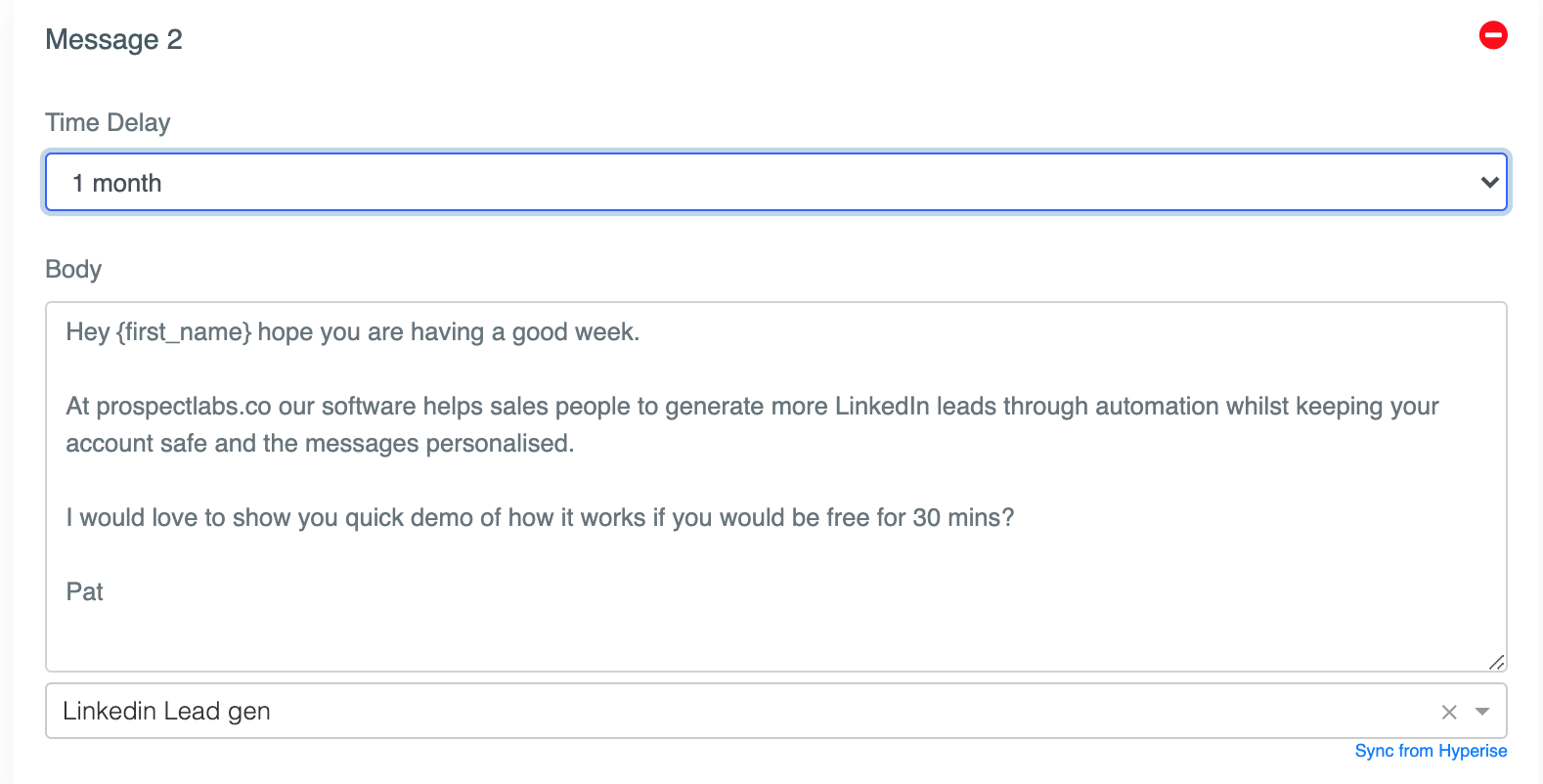 Summary
Do you need to do all these steps to get leads on LinkedIn? 100% no!
However, do you want to be doing things that none of your competitors are doing and generating leads from outbound campaigns and inbound campaigns whilst you are not even working?
It may seem complicated at first when you read this but once you test it all out and try it for the first time you will be amazed at the results you will get.
If you are a Prospect Labs customer and need help setting any of this up just let me know 👨‍💻
Likewise, if you are not using Prospect Labs but want a demo to get started just book a call here: