One of the best ways to generate new business leads for your company is to attend trade shows and networking events where you can build great relationships with potential buyers.
With the impact of Covid-19 on everyone in the world, there has been a digital transformation where physical events are now digital events 😷. LinkedIn has adapted to this demand and the release of LinkedIn events should be a major tool in how you generate business leads.
In the following blog I will show you a step by step guide on how to run your own LinkedIn events, and in true Prospect Labs style, how to leverage other people's events without even needing to run your own 😏
How to Use LinkedIn Events for Lead Generation - Run Your Own Event 📢
Regardless of the job role you have, there are two ways that you can sell to a potential customer.
Either sell directly and introduce your product, or sell through educating them on your expertise and why you are the company they should trust. If you want to educate your audience, then one of the most powerful ways is to run your own LinkedIn event:
People get to see directly your expertise in the space that you work in
They build an emotional bond as they see you speaking live and get to know your personality
They see they 'hype' of your product as there will be lots of other people attending the event
It is incredibly scalable. Instead of 100 product demos to 100 people, you could do 1 product demo to 100 people 🤔
To create your event just follow these steps:
Create a LinkedIn event
The first step is go to the homepage of your LinkedIn profile (LinkedIn Home) and locate events on the bottom left of your screen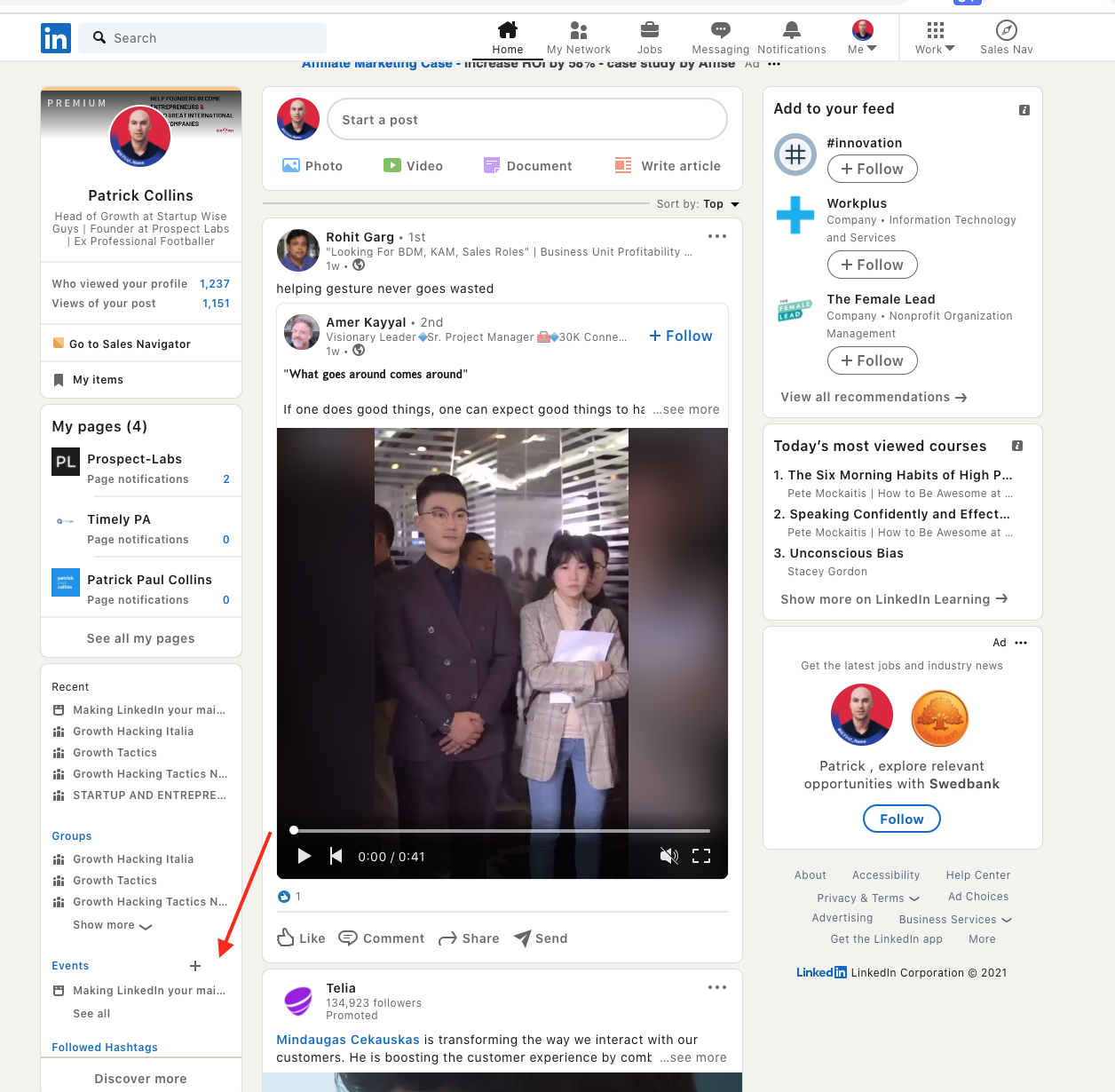 Click the '+' symbol and proceed to the next page where you can create your event.
Customise the LinkedIn Event
Here you will have the option to customise the image, background image, the details, the event name
With the same context of how to optimise your LinkedIn profile (read this blog if you need more help on that), make sure that you create an image that stands out and really represents your brand
Next give the event a name that will be keyword specific so that anybody searching on LinkedIn will find your event:
Now it is time to pick a timezone that you are on and schedule the date. Try to give yourself enough time to prepare and to build an active audience and so maybe planning 1 month in advance could work for you:
Next is the description, and again, make it very clear and concise what the session will be covering and use keywords that your target audience could find you on. You have a limit of 5000 characters but I don't recommend to make it that long: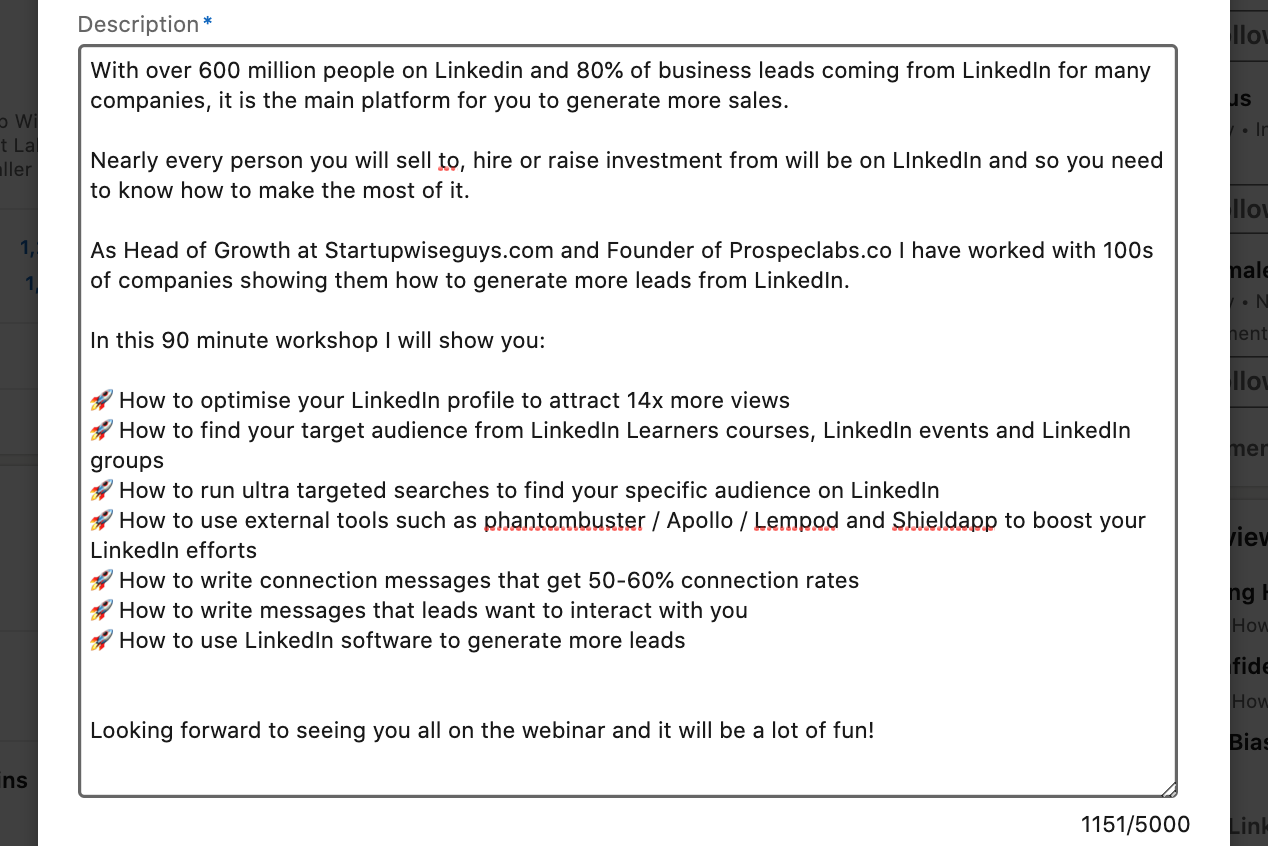 You can also add external speakers to the event if you want to have more collaborators, but on this event I am choosing to do it by myself and so will skip this section and leave it blank:

Now you make the event either public or private. If you are choosing to use the event for LinkedIn lead generation then I would make it public so anyone can attend:

Nearly all set up. Second last step is to choose whether you want to use a LinkedIn registration form or your own lead capture link. I think it is easier to use a LinkedIn registration form as you can capture emails and questions directly from your audience within the LinkedIn platform. However, if you do this you will need to add a privacy policy, in this example I use the one from my site.

Final step is to create a broadcast link where people can attend the event such as zoom, google hangouts etc.:
Click create and your event is live and next is to start advertising it. As soon as you click create you will be taken to this screen where you can make a public post to advertise the event:
Here you can edit the copy of the post to make it more engaging then click post:
Now that the post is live and the event is created you need to build attendees for the event. Once simple way to do this is to invite anybody in your network that could be suitable.
If you click 'see more' at the bottom of the event you will be able to see all of your connections: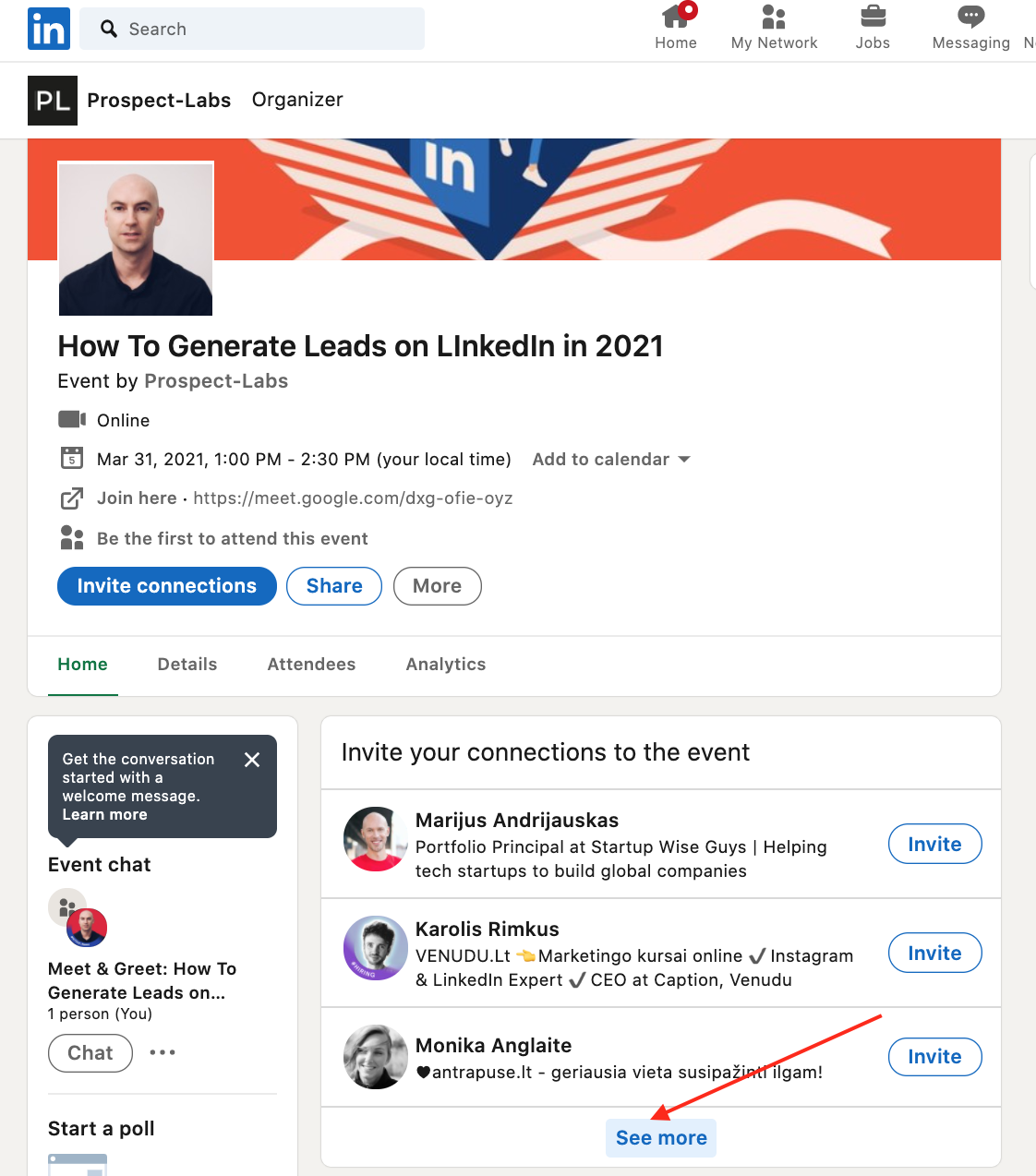 Here you can filter by your industry and location and invite people one by one. However why would we do that when we could automate the whole process 🤔
Running a Prospect Labs Messenger Campaign to Invite People to Your Event
Finding your 1st Degree Connections
Make sure you save the link of your event that you have created (the url at the top of the page). In my example this is the link to the event: LinkedIn Event
Next step is you want to find your audience on LinkedIn that are your 1st degree network. You can use the search bar at the top of your screen to do that or just click this link which will make your life easier:
and you will see this screen:
If you want to message all of your 1st degree network then you don't need to filter them anymore. However, I have over 15,000 connections and so I need to make my campaign slightly more targeted if I am going to invite them to my LinkedIn event.
Just click on 'all filters' at the top of the screen and then choose any job titles, industries or locations that you want to use to make your audience more filtered:
I filtered my audience by 'founder, co-founder, CEO, or sales and then segmented it into locations.
Remember LinkedIn only lets you see the first 1000 search results and so I segmented my audience into Baltic Countries, UK then US so that I will add 3 different search results into Prospect Labs.
Once you are happy with your target audience, click the search url at the top of your page to copy:
Add 1st Degree Network to Prospect Labs
Now go login to Prospect Labs and go to searches and click 'add new search':
Now give the search a name, run a 'basic search' and paste the search url from LinkedIn to look like this:
Click search to bring all the 1st degree connections into Prospect Labs. As I have a very large audience I am doing 3 seperate searches for Baltics, United Kingdom and USA location. Once the searches have finished it should look like this:
Final step create your LinkedIn campaign to invite all your network to the event. Just click on campaigns and click 'add campaigns':
Remember when creating the campaign it needs to be a messenger campaign not a connector campaign:
Next step is to write the message to engage with your network to invite them to the event:
Final step is to add all of your 1st degree searches to the campaign and turn it on!
How to Use LinkedIn Events for Lead Generation - Scrape Other Events 🤖
First of all if you are still reading this far down the blog, then congrats! Secondly, if you have been reading the guide and thinking:
🙈 I would love to run an event but don't know what I would talk about
🙉 I love watching events but I am not confident enough to deliver my own
🙊 I just don't have the time to prepare for an event, advertise it and deliver it
Then don't worry, I want to show you the quickest way to hack LinkedIn events:
Firstly find an event where you think your target audience customers will be attending. To do that just go to search on LinkedIn and type the keyword of a possible event. In my example I chose 'LinkedIn Training' as anyone learning about this may be interested in trying Prospect Labs: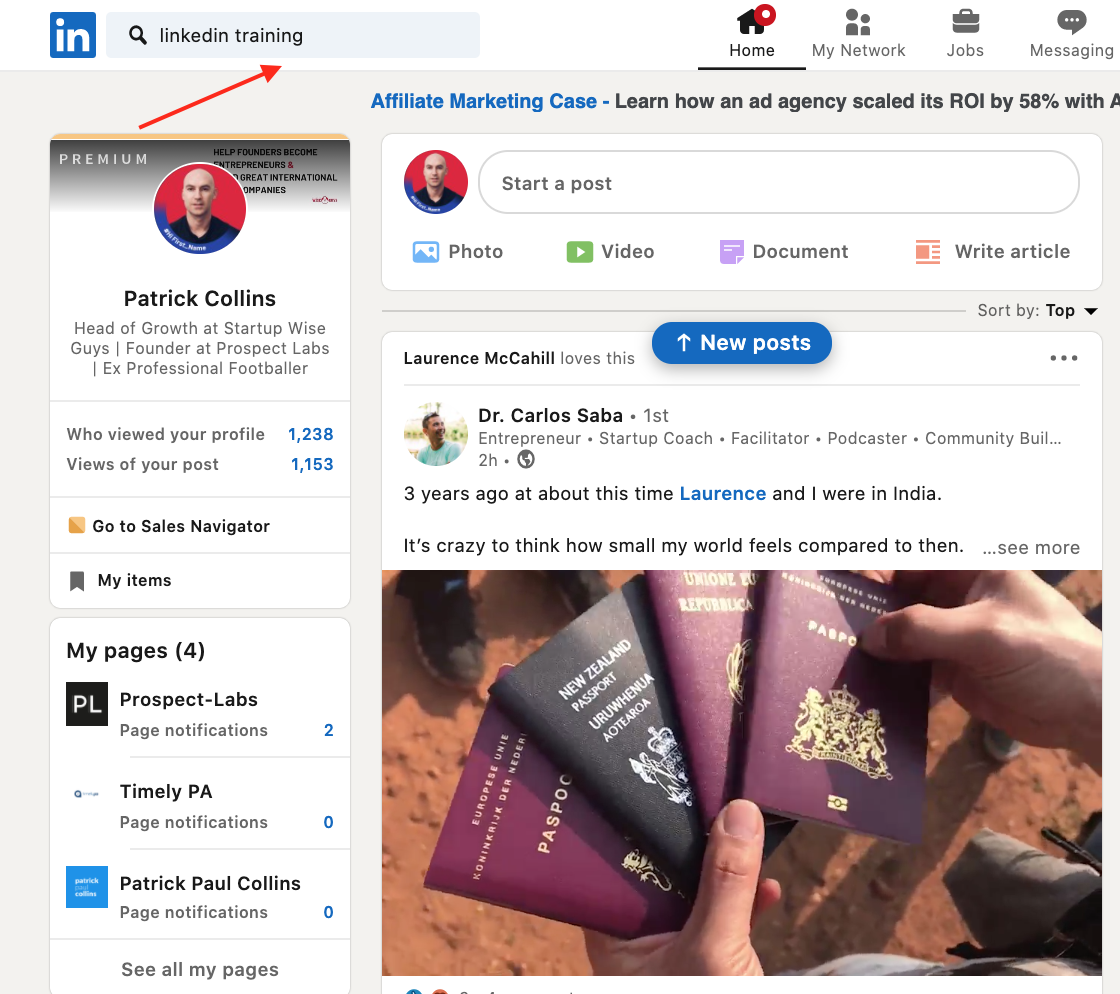 Click enter and then on the next screen filter by 'events':
Now you will see a list of all events that could be relevant to you. Choose an event that may have lots of people attending that could be your audience:
Click on the event then click 'attend event':
From here you will see the magic happen. As soon as you are now an attendee at the event, you can see all the other attendees 🤯
I am going to repeat this!
As soon as you attend the event you can see
EVERYONE THAT IS ATTENDING THE EVENT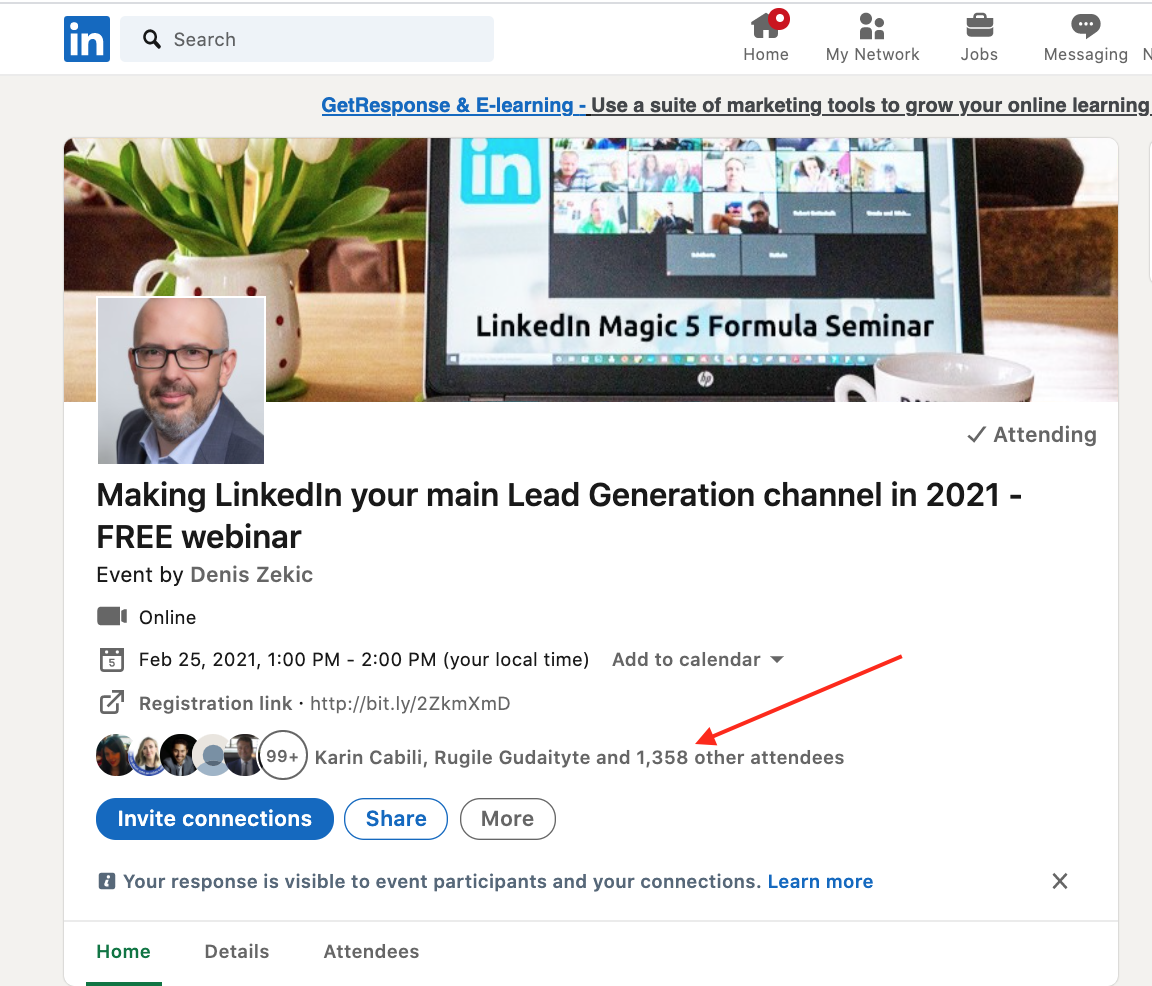 Click on this link and you will be able to see a list of all people attending the event and from here you could add some filters if you want to really narrow down this audience to people you would like to connect with:
Now that you have your target audience who are all attending the event, next step is to click the url at the top of the page to save the results: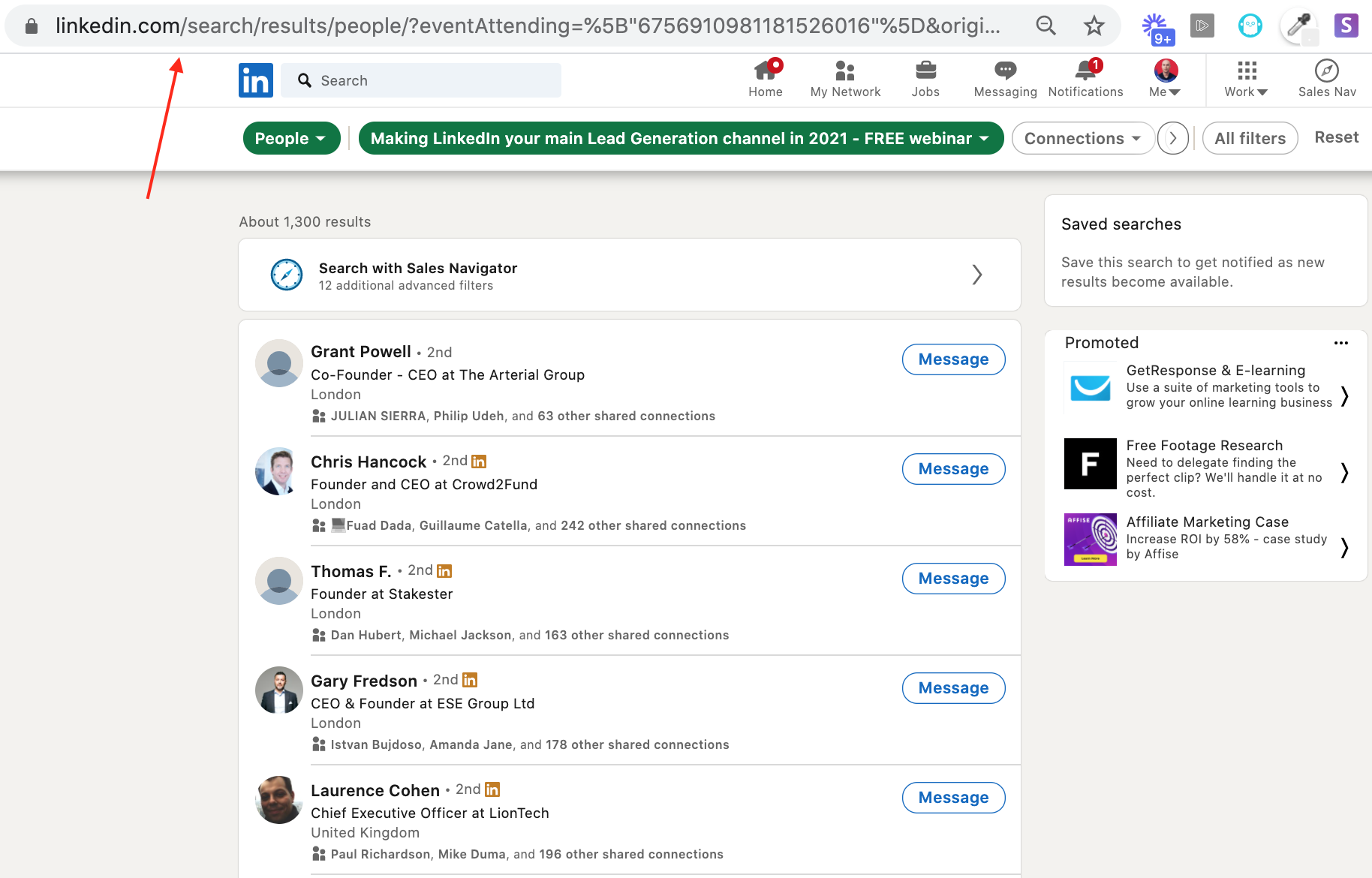 Now you can simply go to Prospect Labs, run a LinkedIn basic search and pull all of these people in 😏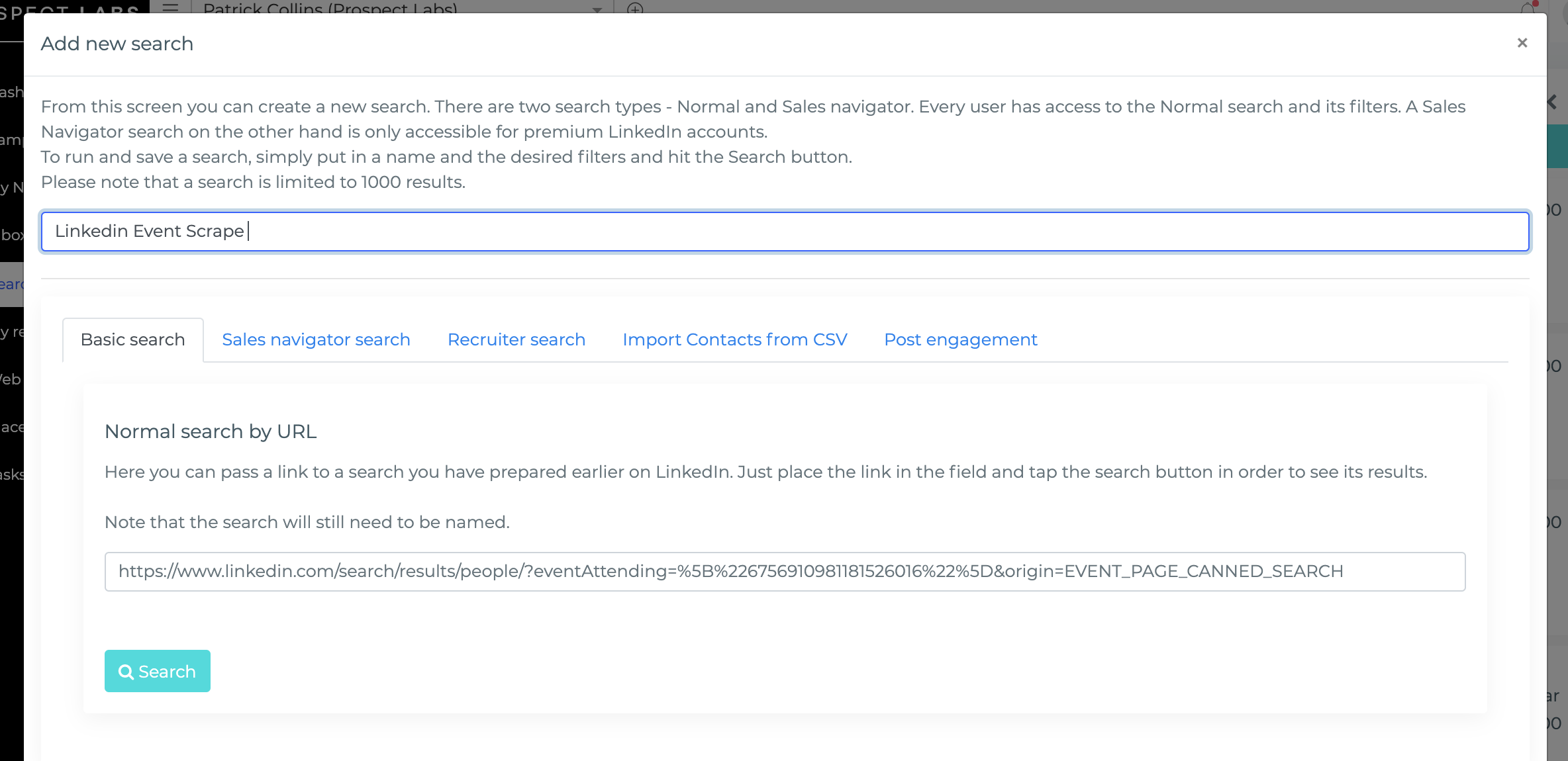 With all of the people pulled into Prospect Labs, you can run a connector campaign to introduce yourself and start generating more leads than you know what to do with 🤓
Summary
If you have the time and the resources to run an event then LinkedIn events could be an amazing way for you build your brand publicly and showcase to 1000s of people what you do.
However if you don't have the time, simply click 'attend' events and pull all the attendees into a Prospect Labs search to target with a campaign.
Good luck with your events and if you want to join the first Prospect Labs LinkedIn event just click here: