Sales Navigator is the premium version of LinkedIn and costs $64.99 per month with an aim of helping you to find leads much more effectively.
LinkedIn has a number of different products to help you make the most out of the platform.
These are:
LinkedIn (basic/free)
LinkedIn Business Premium (subscription version of #1)
LinkedIn Sales Navigator (subscription focused on sales professionals)
LinkedIn Recruiter (subscription focused on talent acquisition professionals)
LinkedIn Recruiter Lite (subscription less expensive version of #4)
LinkedIn Premium Career (subscription less expensive version of #2)
LinkedIn Slideshare (PPT & PDF sharing application)
LinkedIn Elevate (Enterprise subscription for content share & measure)
LinkedIn Ads (PPC advertising application)
LinkedIn Jobs (Fee-based Job Posting)
It can be very confusing for new users to LinkedIn to understand which product is most suited to them. At Prospect Labs we always advise to start using Linkedin (basic/free) to get used to the platform and to keep the costs down.
However, once you see the power of Linkedin lead generation, then the most effective tool for you to use is LinkedIn Sales Navigator.
The main questions we get asked at Prospect Labs are:
Do I need a Sales Navigator account for lead generation?
Is Sales Navigator worth the price?
How do I generate leads from Sales Navigator?
What Prospect Labs growth hacks can I use with Sales Navigator?
Do I need a Sales Navigator account for lead generation?
There are two answers to this question.
To start with you definitely do NOT need a Linkedin Sales Navigator account and with a normal free account you can still do all the activities that you want to do to generate new leads:
Find your target audience via job title, connection status, industry and key words
Find your target audience via groups and posts
Connect with your target audience and interact with them
However, once you get used to using the free LinkedIn version and become more active on LinkedIn, you start to experience restrictions on how much activity you can actually do.
On a free account you have a monthly people search usage which you can read more about here:
Linkedin Monthly Search Limits
What this means is that when you are trying to find your target audience of people you would like to connect with, on free Linkedin you are limited to visiting 1000 profiles per month. When you reach that limit you will see the following image:
LinkedIn is just like any other software and wants you to use it for free to get used to the platform, but once they see that you are an active user they want you to pay for their services such as Sales Navigator.
**Growth Hack**
If you do find yourself using the free version of Linkedin and you find you have reached your monthly search criteria then don't worry. If you go to Recruiten.net this allows you to search for LinkedIn profiles via Google: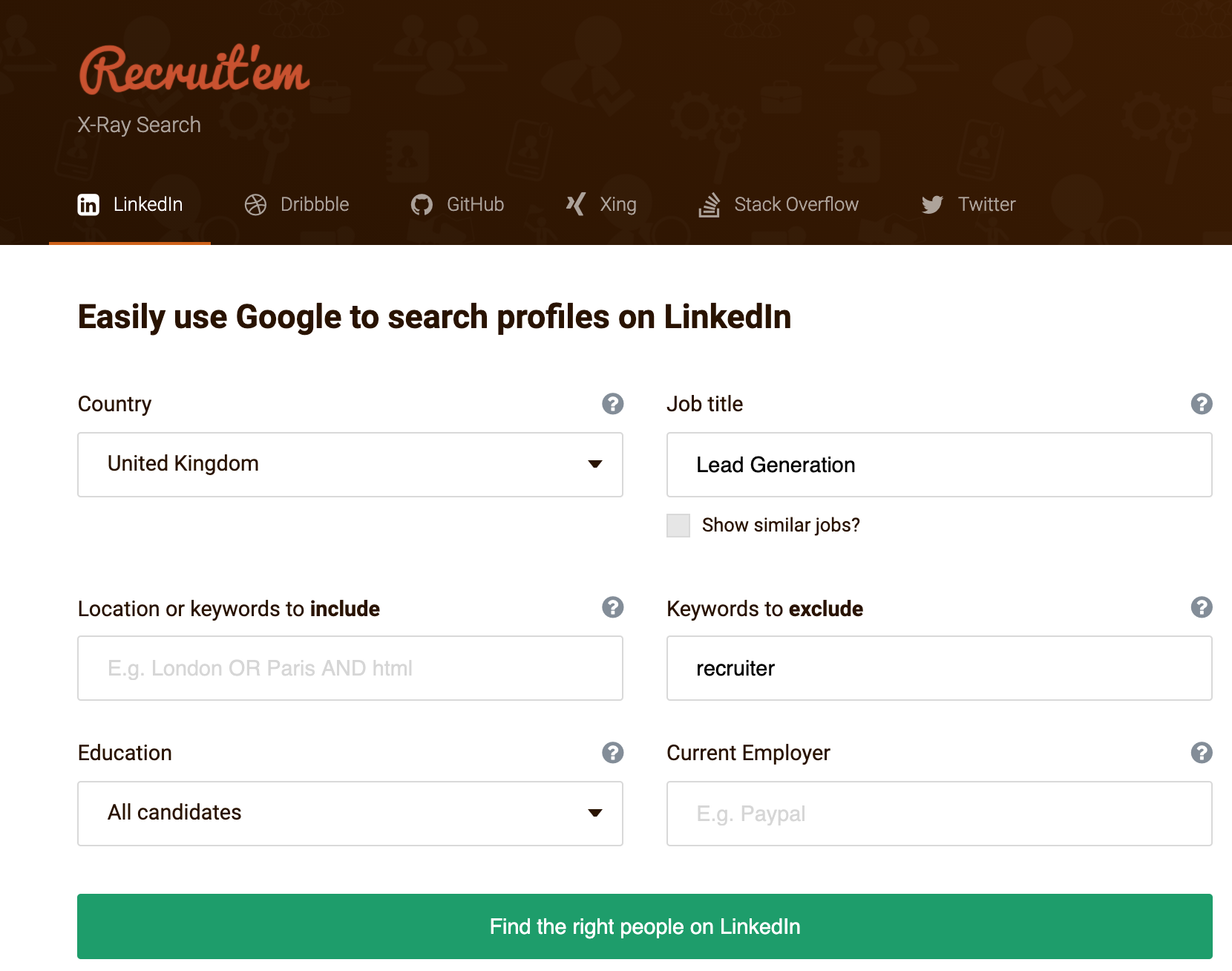 If you follow the steps to add your target audience then click 'find the right people on LinkedIn you will then see the option to 'open in google':
Once you click this you will be taken to your search results on Google:
If you remember on LinkedIn you can only ever see the results of your network (1st degree, 2nd degree and 3rd degree). However the magic of this search is that it shows you all the results based on the google search not LInkedIn search and so it is not linked to your network.
This can be an amazing hack to find new people if you are trying to sell to a new country where you do not have a lot of connections, or if you have simply ran out of search credits on a free Linkedin account.
Apart from extra searches, Sales Navigator has some amazing extra features that all lead generation teams need:
Filter by size of company
Filter by years worked at a company
Filter by groups people are in
Save searches
Blacklist any companies or job titles that you do not want to contact
Find people that have recently changed jobs
Is Sales Navigator Worth the Price?
Before Prospect Labs was launched as lead generation software, we ran a lead generation agency for 3 years running LinkedIn campaigns for companies throughout the world.
One of the most difficult questions was always to convince our clients to pay for Sales Navigator. At nearly $70 per LinkedIn account this can really start to build up. Particularly if you are going to use Prospect Labs + Sales Navigator then you may be paying around $150 per month per sales person.
This is how you should measure the price for you:
(1) How many leads are you trying to generate per month per LinkedIn account?
(2) How many sales are you hoping to convert from these leads per month?
(3) What is the value per sale for you?
For example if you are trying to :
generate 30 leads per month
convert 10 of these per month
each sale is worth 150 euros for you
This will mean in total you have made 1500 euros in sales in a month and so spending $70 per month on Sales Navigator is completely worth it.
The other main price point people forget to consider is TIME. If your sales team are manually searching for leads on LinkedIn, this is reducing the amount of time they are spending on the phone giving demos and making sales.
Using Sales Navigator and Prospect Labs together you could spend 2-3 hours at the start of the month finding your target audience and setting up your campaigns, and then the rest of the time is spent replying to leads.
If you are serious about LinkedIn lead generation and you value your time then our advice is that you should definitely try Sales Navigator!
**Growth Hack**
Sales Navigator gives you a one month free trial if you have not used it before:

Therefore you could test out using the upgraded version, find 1000s of contacts that you want to target and add all the searches to Prospect Labs. Then at the end of the month even if you cancel your Sales Navigator account, you still have all your searches saved and ready to use.
How do I generate leads from Sales Navigator?
Before using Sales Navigator you should have already practised a lot at finding your target audience on normal LinkedIn.
There are so many variables of finding people you want to target that having an idea of who your ICP is (Ideal Customer Persona) will make your job a lot easier.
To start with Sales Navigator will look like this and you need to click on 'search leads'. This means search for people instead of companies (accounts):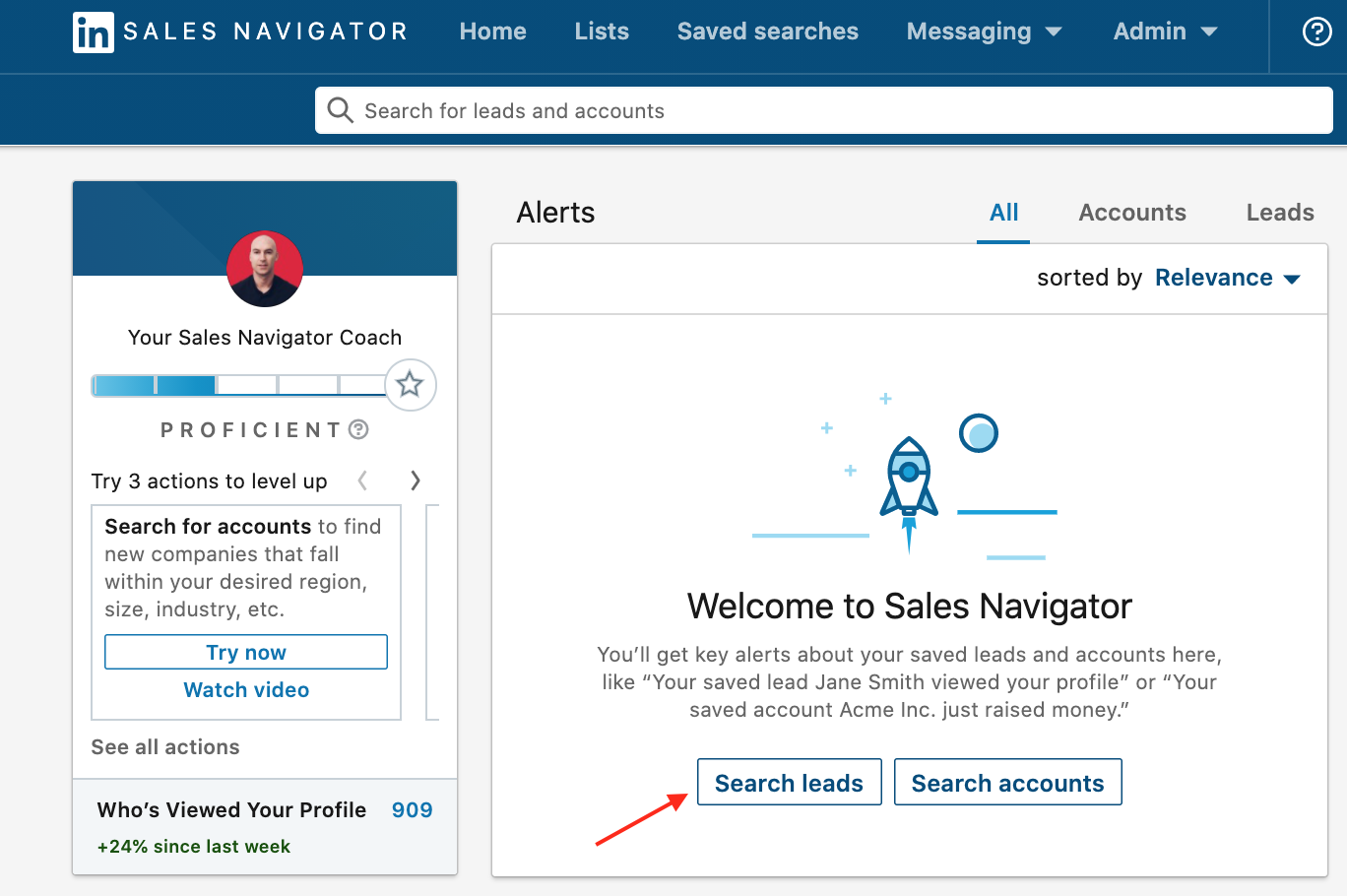 From here you will be taken to a new screen where you can start filtering your target audience. Click 'view all filters' to see all the options of how you can find your audience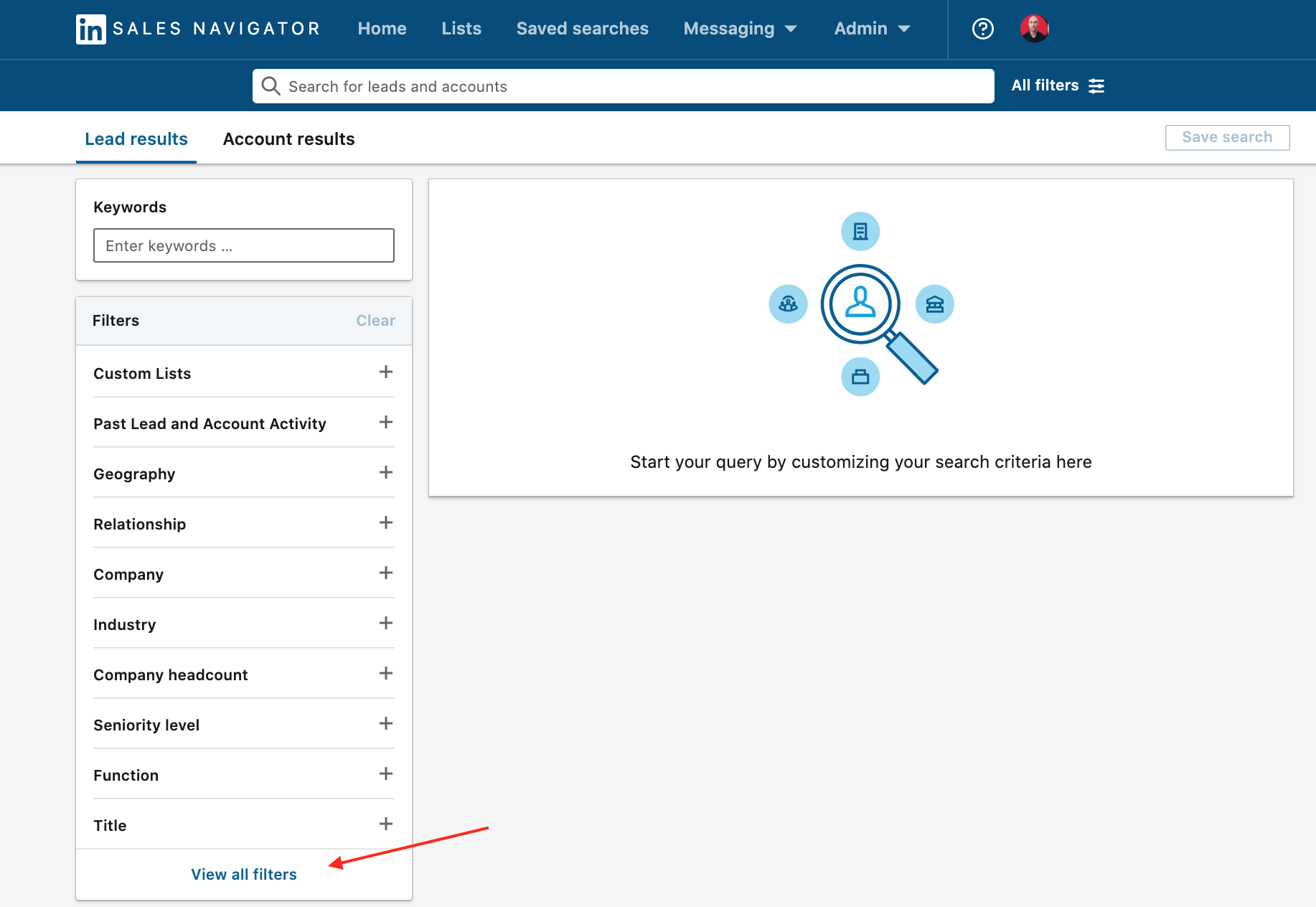 At this stage you may feel slightly overwhelmed and rightly so, there are over 30 different advanced features that you can search by that basic LinkedIn does not have: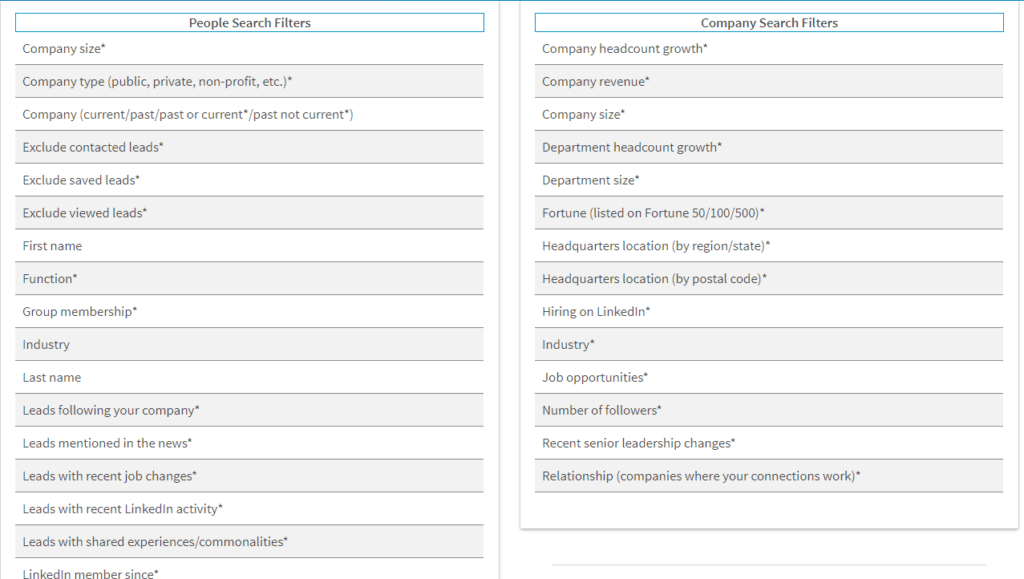 If we use the example of trying to find startups in the UK that are my 2nd degree connections, in the computer software industries and I am targeting the founder with less than 50 employees then you could try this:
As you can see there are 3000+ results just from this one search and so very easy to find a large target audience of people that you would like to speak to.
What Prospect Labs growth hacks can I use with Sales Navigator?
🚀 Growth Hack 1
Filtering by groups
One of the best ways to find an audience of motivated and like minded people that may be interested in buying from you is in a LinkedIn group. Instead of speaking to people just because of their job title, you could interact with people who are all part of a similar group, e.g.: Real Startup Group: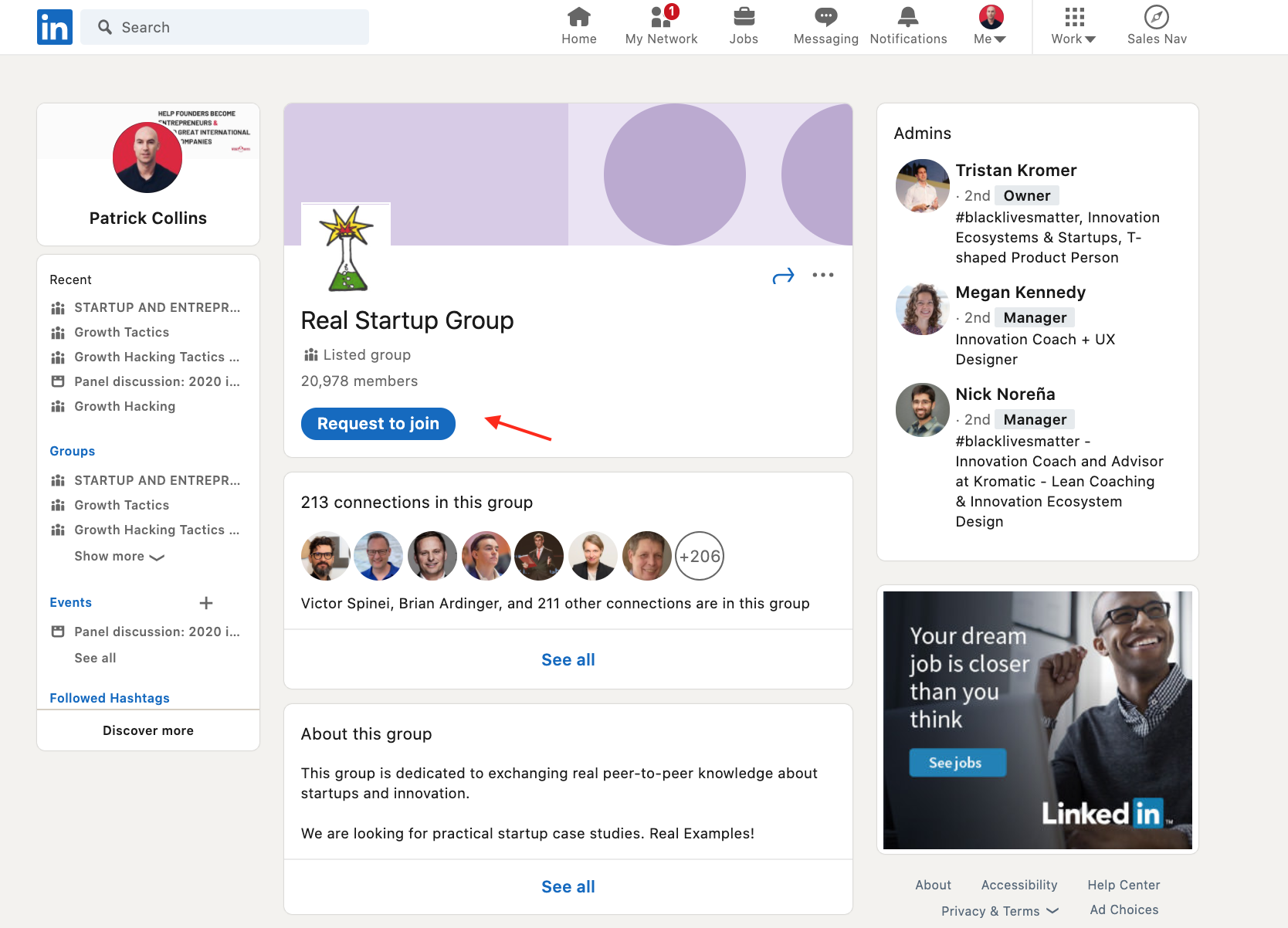 However as you can see I need to request to join the group to be able to see all the people that are in the group.
If you go to your Sales Navigator account, go to lead filters and scroll down to the bottom searches you will see 'groups'. Just add the name of the group you want to search by (e.g. 'real startup group') and click search: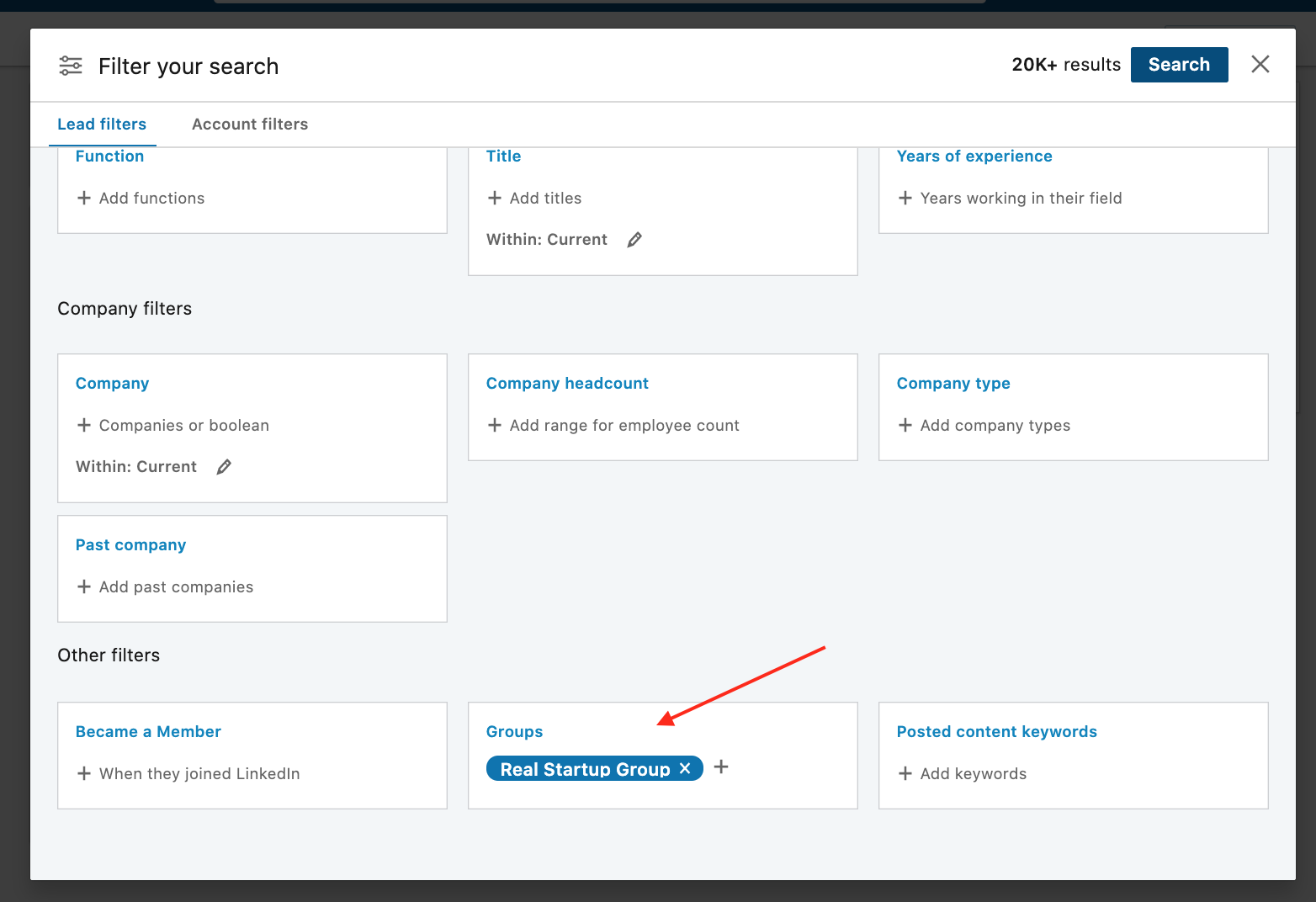 You will now see all the people that are in this group and you can then narrow down the search by your 2nd degree connections, location, industry etc.
Now that you have your target audience found, you can go to Prospect Labs searches, add the url of the group search and pull all the contacts in to your campaign:
For your campaign you could try a connection message like this:
🚀 Growth Hack 2
Changed Jobs
One of the amazing features Sales Navigator has is that it shows you which people you are searching for who have recently changed jobs: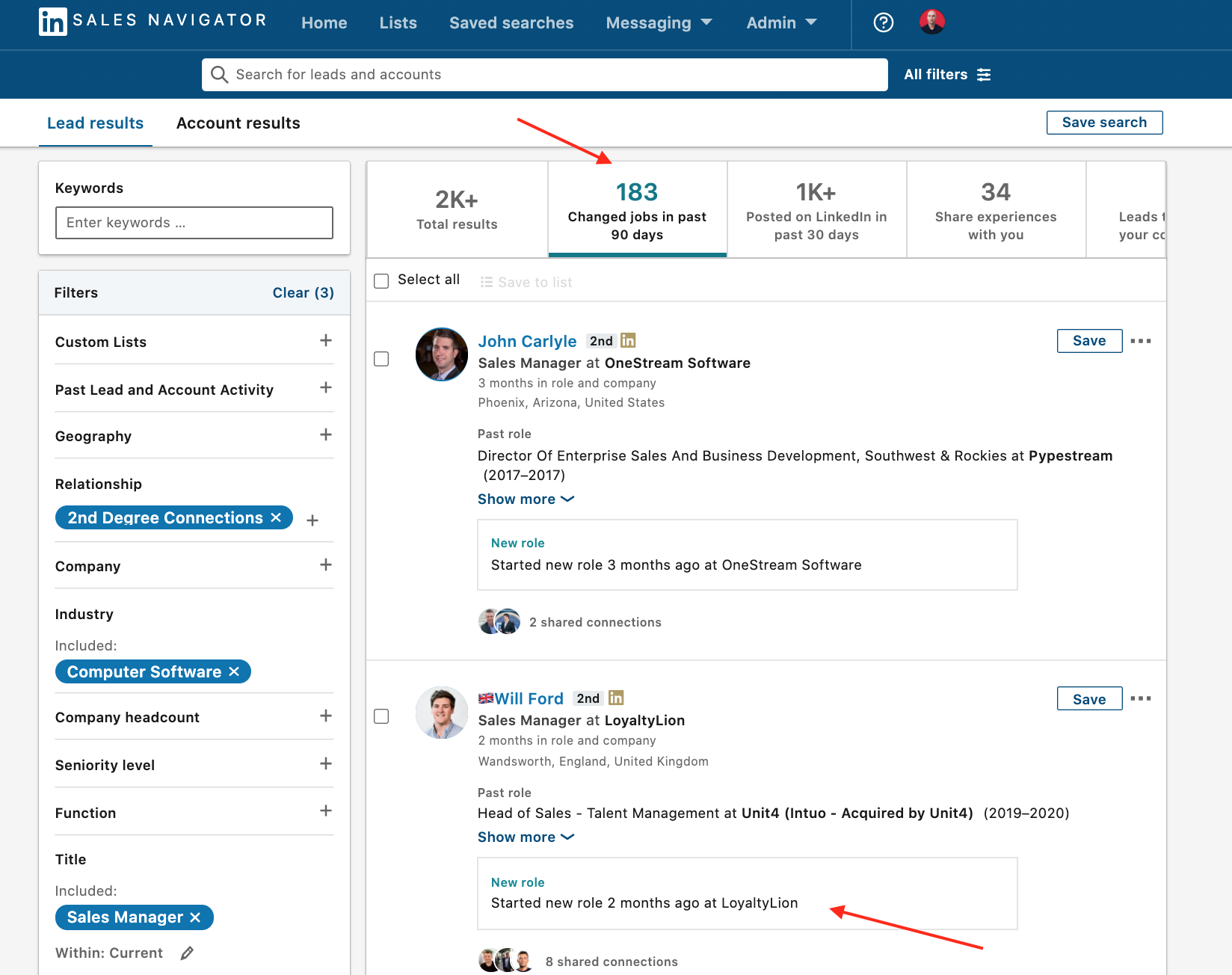 As you can see in the image 183 people who are in my target audience have changed jobs in the past 90 days.
This can be a great way to start a conversation with someone to connect with them, and anyone who has changed jobs is always looking to make a big impact in their new role and so may be interested in buying your product.
Just save the search results into Prospect Labs and then you could use a connection message like this:
🚀 Growth Hack 3
Finding Similar People
Sales Navigator is perfect for helping you to find a very large audience of people, but it is also just as good at finding exact matches of people that fit your unique criteria.
If you find some one who you feel could be a perfect customer for you, in this example Rob Lowe. He runs a LinkedIn lead generation agency and so could be a perfect customer to use Prospect Labs for his clients:
If you click the three dots on the right hand side of the profile, you will then see an option that says 'view similar':
If you click on this, you will be taken to a list of 100+ people that are all very similar to Rob that could also be your target audience:
🚀 Growth Hack 4
Content Posted
When searching for your target audience, the main variable to success is if the person is interested in what you have to sell. If you only target people by job title then this often means they are in the right position to buy, but have not shown any motivating or indication that they are interested in you.
However on Sales Navigator you can search by content posted meaning you can find people interested in the same content as you are selling.
If you go to the lead search on Sales Navigator, then scroll to the bottom and click on 'posted content keywords' then add your keyword, in this example 'sales':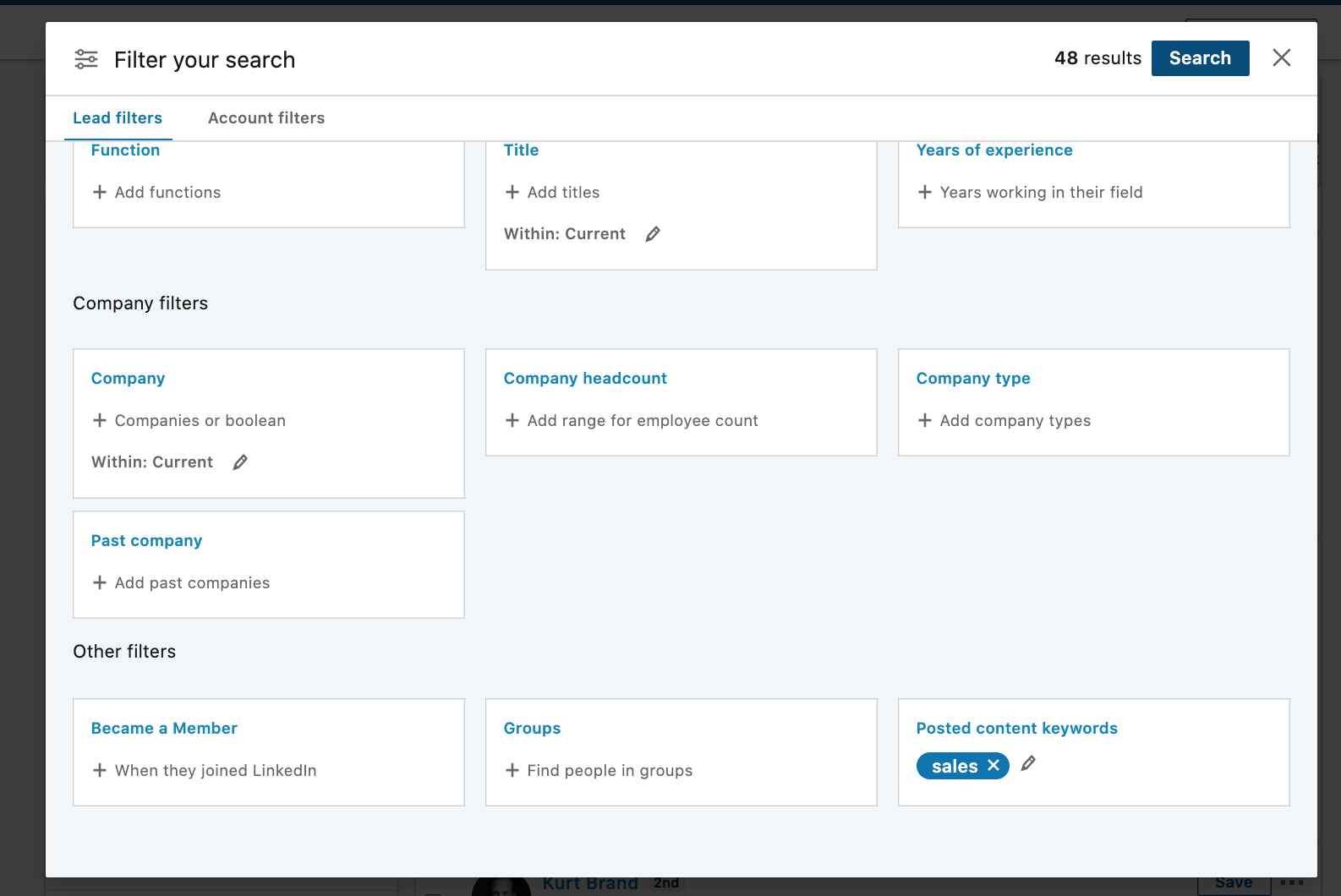 You then get a list of all people who have recently posted sales related content:
You could then add these people to Prospect Labs using the Sales Navigator search option and write a connection message like this:
🚀 Growth Hack 5
Extra Industries
When searching for your target audience, you have the chance on Sales Navigator to filter by Industry. LinkedIn automatically prompts the industries that maybe relevant to you: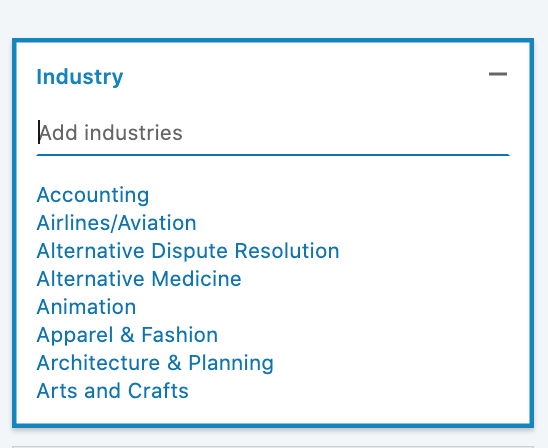 However did you know that there are actually over 150 different industries to search from that are not usually on display.
If you go to:
this will give you a list of all the industries you can choose from. Just search in the column Industries and you will see the range of industries to pick from: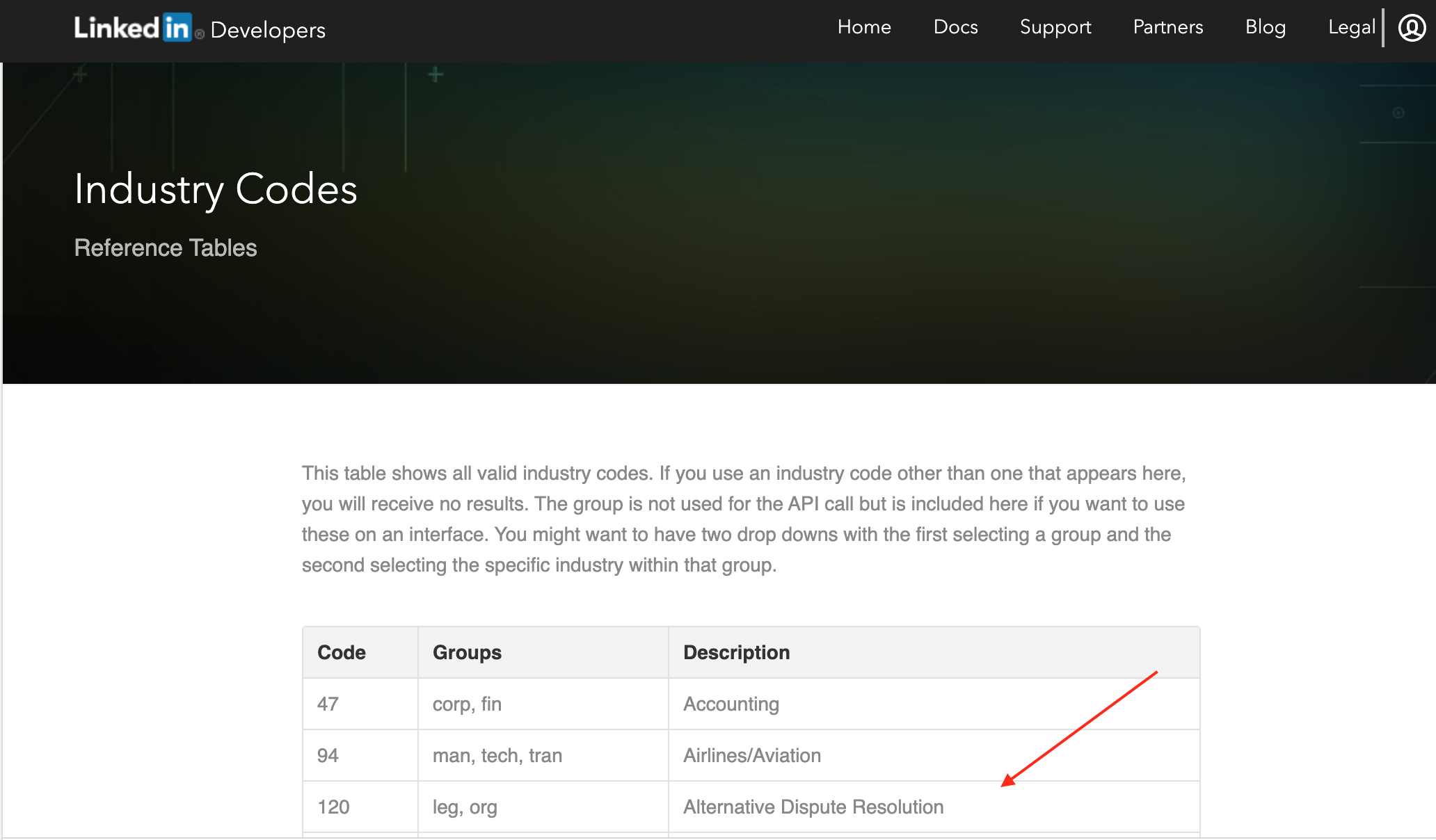 🚀 Growth Hack 6
Prospect Labs Auto Reload
Once you have found your target audience the next step is to copy the search url to add the search to Prospect Labs: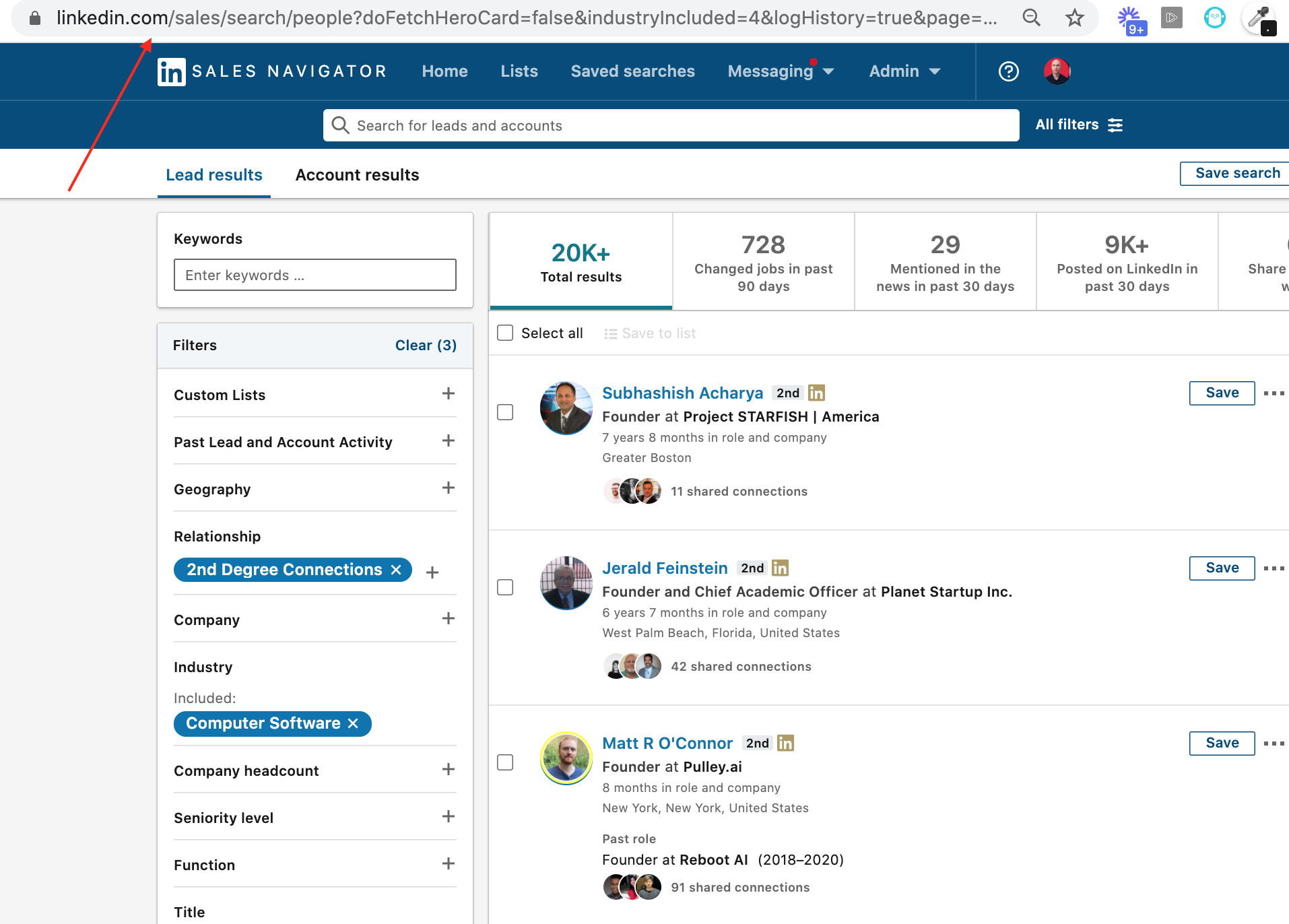 However before you do that, on the left hand side of the screen you will see the option of 'past lead and account activity'. Click the + sign and then choose 'remove contacted leads from search':
This now automatically removes anyone from your search criteria that you have already contacted.
Next step is to add this search url to Prospect Labs and click on the option 'Auto reload':
Once clicked you can then choose how often you want to reload the search. This means that every 7 days for example, Prospect Labs will reload your Sales Navigator search and any new people that show up in your search results will be add to your linkedin campaigns:
If you set this up correctly you will never need to update your campaign again, as it will constantly top up the people in the campaign when new people show up in your sales navigator search.
Using Sales Navigator to generate more leads
Nearly every day I get asked if you need to use Sales Navigator to generate leads from LinkedIn and my answer is always, no you don't need to, but yes if you want to use LinkedIn in the best way to generate the most leads and sales.
Likewise I get asked a lot if you need to use Prospect Labs to generate leads on LInkedIn. Again, no you can do this process manually and you can get great results, but if you are serious about getting consistent leads and sales and want to achieve much better results then you ever could manually, then try Prospect Labs out.
Next Steps
👋 Connect with me on Linkedin: Patrick Collins
🤔 Let me know if you enjoyed the post
🚀 Sign up for Sales Navigator for a free trial
👨‍💻 Sign up for Prospect Labs on a free trial
📈 Start generating leads without paying for anything in the same week
Prospect Labs is 99 Euros per month per LinkedIn account and you can trial it for free for 7 days.
Just sign up here Prospect Labs or get in touch via chat if you would like to have a demo.