How to implement a multi channel campaign to generate more leads
The world of lead generation and sales is changing.
Social platforms are getting stricter, customers are getting more educated on selling techniques and the market is getting more competitive. 
Gone are the days where doing a basic LinkedIn search and sending hundreds of connections a day would bring results.
With LinkedIn recently implementing stricter rules limiting lots of people to 100 connection requests per week this has made a lot of people panic. 
However at Prospect Labs we always stay calm, find a way to adapt, create new hacks, and designed The Bound Framework.
The history of inbound and outbound marketing
First of all, we need to look at the history of inbound and outbound marketing.
Inbound Marketing
In 2005 Hubspot CEO Brain Halligan introduced the concept of 'Inbound Marketing'
"Inbound marketing is a business methodology that attracts customers by creating valuable content and experiences tailored to them."
Hubspot realised that just cold calling wasn't enough to make sales.
They created the phrase "Inbound marketing" as a strategy focussed around educating customers through blog posts and videos to bring customers to them.
The strategy was simple; create content that teaches and educates people to give the context of why they need your product and let them come to you. 
Outbound Marketing
Fast-forward 10 years and from 2015-2020 the rise of 'Outbound Marketing' was the hot topic.
"Outbound marketing involves proactively reaching out to consumers to get them interested in a product."
Major advances in softwares and automation meant that you were able to find people's email addresses through softwares like snov.io and hunter.io or to use sites like apollo.io or leadfuze. These advances made cold emailing increasingly easy to do. 
At the same time LinkedIn continued to grow to an audience of 740 million people.
This meant that for most companies, LinkedIn and Email outreach was an easy way to run outbound campaigns with great volume. 
However in 2020-2021 the world changed.
- Covid completely changed the way people worked.
A huge boom in online working meant that buyers became more engaged in zoom calls, webinars and remote working. As a result, the need for physical sales and trade fairs was reduced.
- LinkedIn changed its users terms and conditions
If you are using LinkedIn in a sales capacity, the policy limits its users in the number of connections they can initiate per week. (However this only implies to some accounts)
- LinkedIn released new products
These products aim to make it easier for more people to create their own events through LinkedIn live, for example.
In summary, LinkedIn changed their user base from sales people to social sellers.
This means instead of the high volume outbound strategy, they want you to combine inbound marketing techniques with outbound marketing techniques.  
Therefore, in 2021, you need to apply The Bound Framework if you want to successfully generate leads and we are here to help you apply this. 
Introducing 'The Bound Framework'
The Bound Framework is a methodology that combines inbound marketing techniques to raise awareness of your product with outbound automation techniques to interact with these people to generate leads in a scalable and safe way. 
At Prospect Labs we are always working and helping our customers to achieve two main goals:
Create growth hacks that generate a consistent stream of leads

Find a way to scale the formula through automation 
With Version 1 of Prospect Labs there was a strong focus on outbound marketing through the following approaches:
- Connector Campaigns
Connecting with 2nd and 3rd degree prospects on LinkedIn 
- Messenger Campaigns
Running campaigns to your 1st degree network as well as engaging with
groups on LinkedIn
- Open Inmail campaigns
Running campaigns targeting LinkedIn accounts with Open profiles
- Import Email Campaigns
Running campaigns targeting all email addresses you have and
  bulk uploading them to match LinkedIn profiles to auto connect 
By combining these approaches we saw spectacular results like a 97% connection rate and a 49.6% reply rate from a connector campaign.
However we always knew that to really get the best results we needed to find a way to combine these approaches with more interaction on LinkedIn.
We realised this through several touch points like:
- Visiting a profile
- Following a profile
- Liking a post
- Following a company
- Endorsing profiles
By completing these touch points on LinkedIn, it helps to lay a warmer foundation before actually contacting them. 
By combining the four LinkedIn campaigns and the LinkedIn interaction touch points we found that this has an enormous impact on how to generate leads on LinkedIn. 
At Prospect Labs, we wanted to make sure you could try all approaches on LinkedIn. So we made sure that all outbound marketing channels are covered.
On top of that, we realised that sometimes you need to use an additional marketing channel which is why we integrated email campaigns as well.
Prospect Labs has perfected its software in order to allow any user to apply The Bound Framework in any way they want.
This will allow you to:
Interact with people in LinkedIn through social interactions

Run LinkedIn campaigns to specific target audiences
How to use the Bound Framework to generate 50+ leads per month 
When creating a strategy that combines inbound and outbound marketing I try to focus on three key areas:
How can I find a way to motivate the person I am interacting with to want to speak to me 

How can I make the approach seem completely personalised but I can also scale it to 1000's of people

How can I make a high volume approach but also safe for my LinkedIn and Email accounts
A step by step guide

I always start by visiting a prospect's LinkedIn profile. This lets them know I am interested. I then wait a day and follow their company. For me, this is a way of showing that I am not only interested in them personally, but also in the company they work for. 
A day later, I would then like their post with the impression that I recently found out about them, love the content they share and want to connect with them.
At this stage, I have done plenty of work to make the prospect aware of who I am. In doing so, it looks like a very natural process of visiting a profile, liking a post, following the company and connecting as a result. But before I make this connection, I need to make sure that we are not connected already.
This is part of the logic of how Prospect Labs works to ensure that all people are added to the right types of campaigns. 
Then the flow splits in two. If we are already connected, I send a follow-up message.
If we are not connected, I send a connection message.
If we follow the left flow, it mimics normal LinkedIn behavior where you send a connection message and then start a conversation with someone once they accept. 
I will also endorse the person and like another one of their posts just to build a trusting relationship and to get their attention.
If I am not connected with the person, I will go down the right side flow and try a mix of marketing channels to get their attention.
Firstly I will wait 3 days to check if they accepted my connection request. If they have, I will send a follow up message.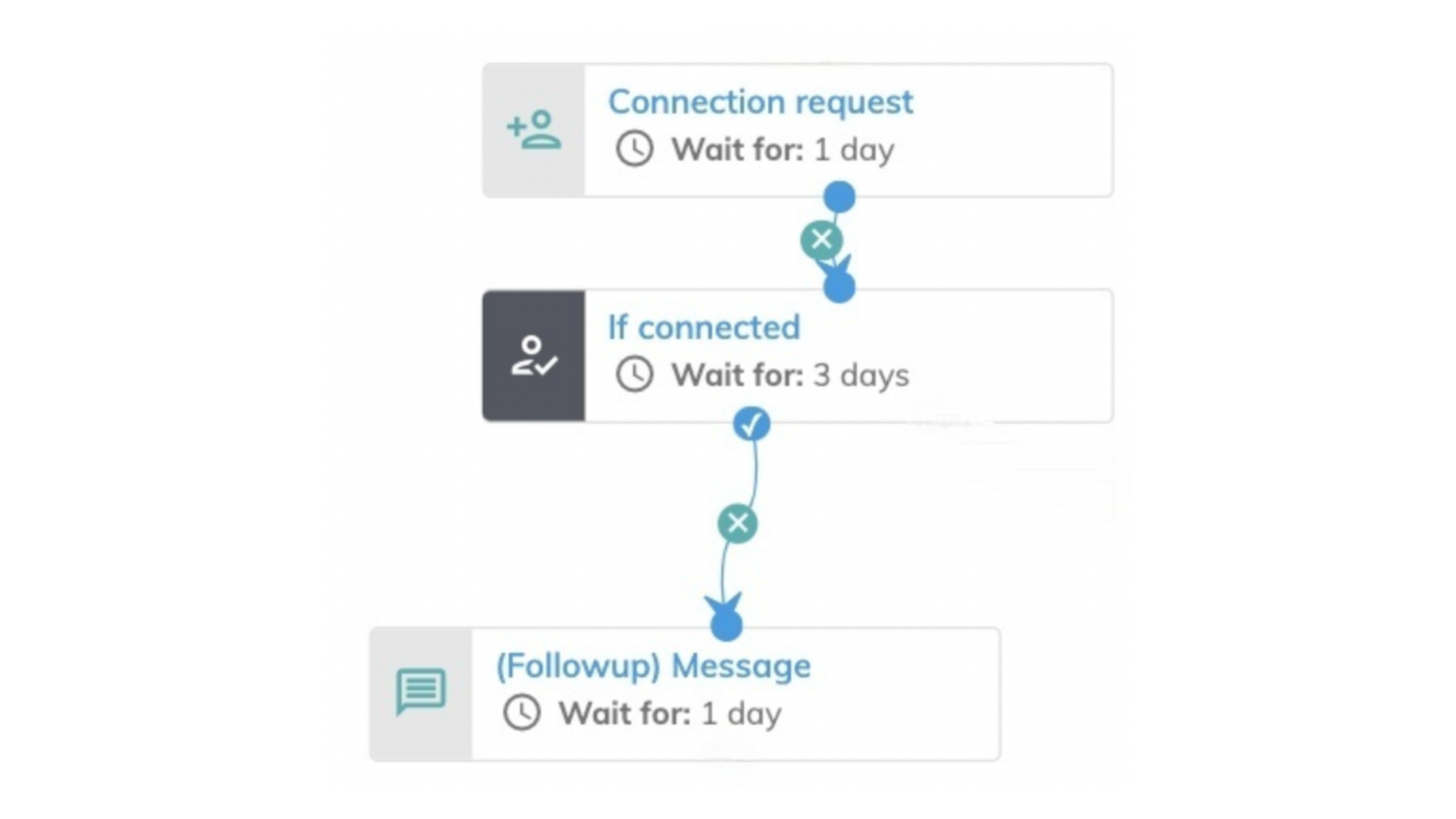 However, if they have not accepted my connection request after 3 days, I shift from LinkedIn and start to focus on email. Firstly I will check if there is a business email valid for the person and if so, I will send them an email first. In the case that they haven't open the email after five days, I will send a second one.
If there is no email available, the last approach would be to check if they have an Open Profile account (you can read more on what is an open profile here)
If the account is open, I would send an InMail message to them.
If it is not an open profile, chances are that by this time the person in question has accepted your initial connection request. This gives you a second chance to check if you are connected now and you can send a follow-up message.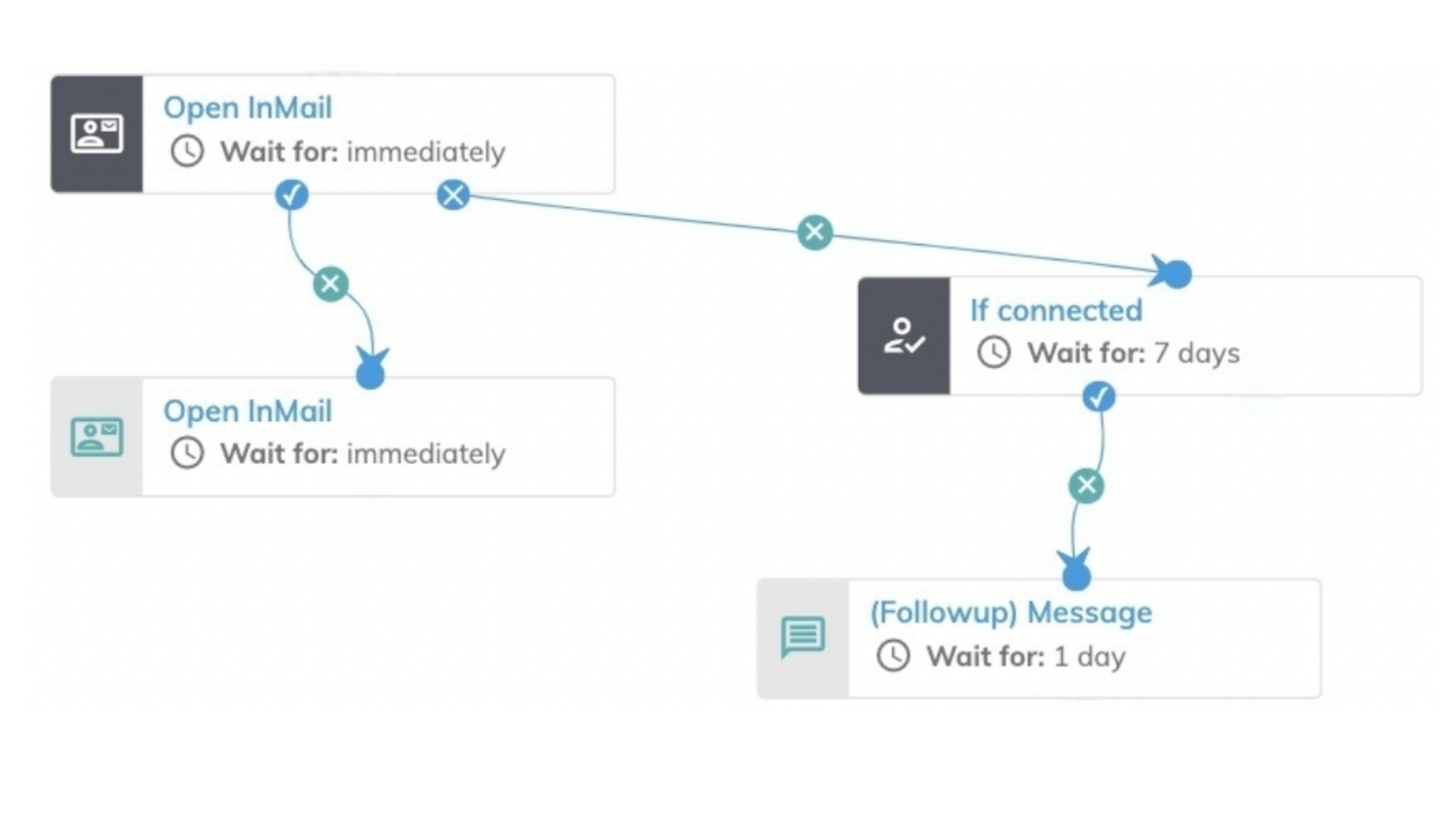 By the end of building this whole flow, you will be left with a fully automated campaign that combines LinkedIn, Email and Social interactions.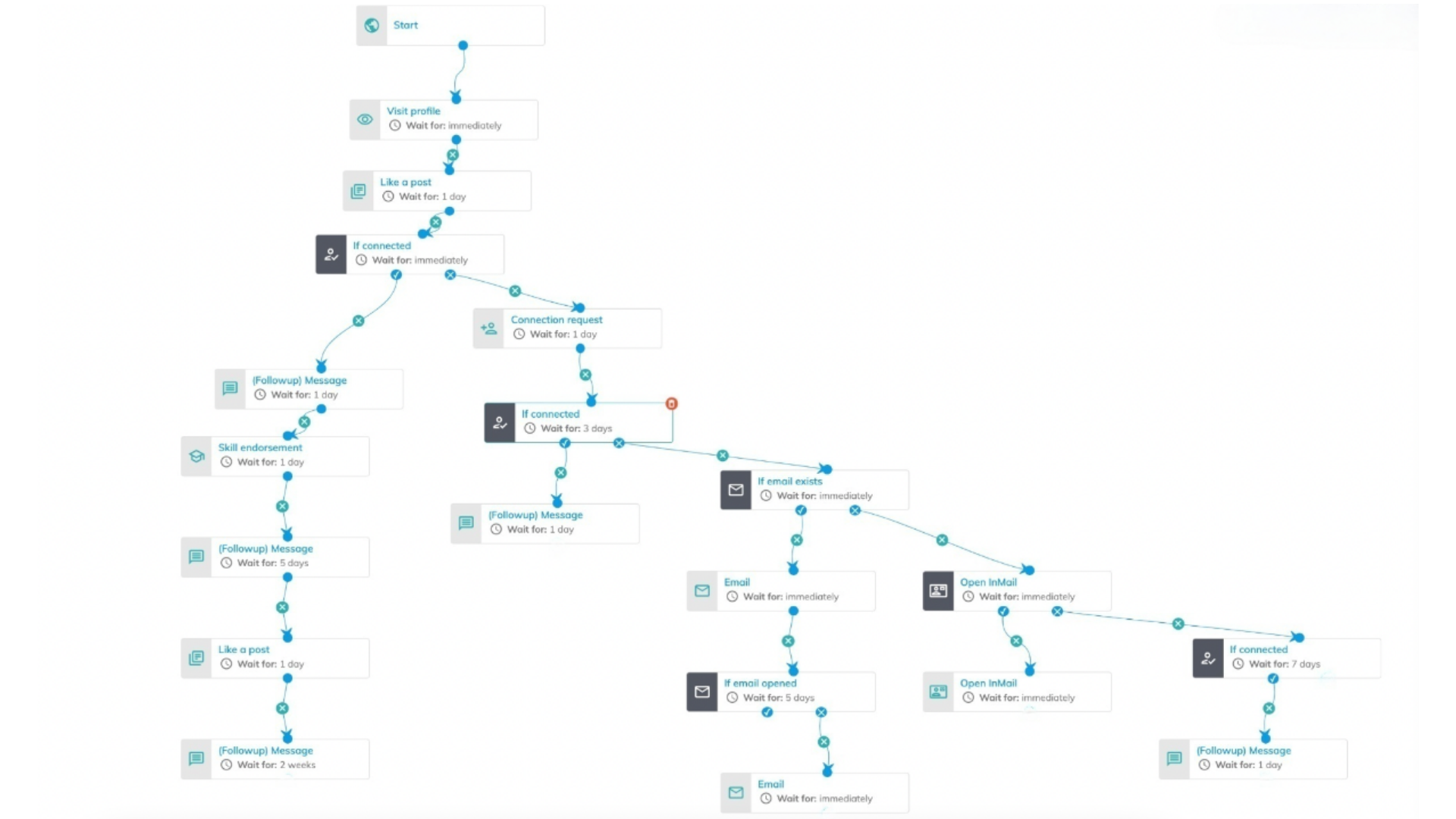 This may seem complicated at first, but it actually comes down to bringing together all the activities in one place that you probably already do through a series of other softwares or manual activities. 
By combining LinkedIn interactions like:
- Visiting a profile
- Following  a profile
- Liking a post
- Following a company
- Endorsing profiles
and LinkedIn automations through campaigns like:
- Connector Campaigns 
- Messenger Campaigns 
- Open InMail Campaigns 
- Import Email Campaigns
you have a fully balanced LinkedIn outreach strategy that is highly scalable, safe and generates amazing results. 
Welcome to the Bound Framework 🚀
The Prospect Labs team is always available to answer your questions, provide training and show you how to use Prospect Labs.