LinkedIn lead generation can be split into three specific sections that need to be done right to get the best results:
Optimising your Linkedin profile to make sure that the 1st impression you make when connecting with people is positive (check out our blog here on that)
Finding your target audience that will be interested in your service /product
Creating messages that will make the customer want to engage with you and learn more about you and what you have to offer (check out this blog to help with that)
To find your target audience you need to be creative. You need to think like your customer would think and go to the places on Linkedin that they would visit.
LinkedIn basic searches can help you to start with but to really make the most out of finding your audience I would recommend using Phantombuster:
Phantombuster helps you to scrape data from all social platforms without having any coding experience.
At first glance, you may think it is complicated, but trust me, once you have used it for the first time and see the results, you will be hooked! 🤯
Getting Started with Phantombuster for Linkedin Lead Generation
To get started go to phantombuster.com and register for a free account. They have a range of paid versions but you can achieve everything you need from a free account to start with: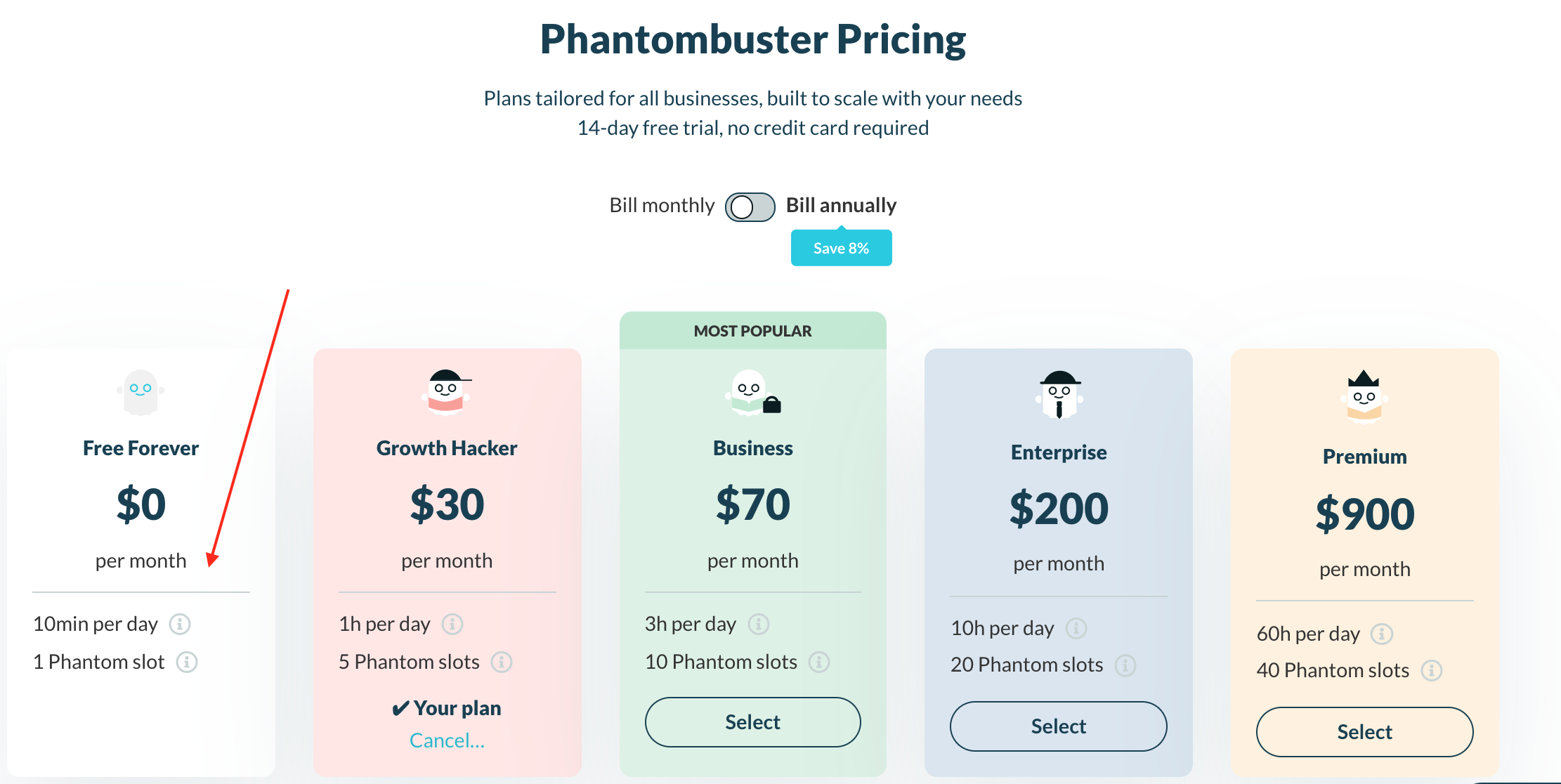 Once you register your account you need to install the Chrome Plugin which will sync your social accounts:
Usually, I would recommend staying away from any chrome plugins when Linked to any LinkedIn activity, however, this tool is tried and tested with over 70,000 users and is very safe to use.
Once you have installed the chrome plugin you are now ready to start scraping data from LinkedIn 🚀
Scraping Linkedin Groups using Phantombuster
Before Covid-19 impacted all of us, trade shows, meetups, networking events were a great place to find like-minded people to speak to. Now everything is digital and so finding your online community can be a great way to generate new leads.
On LinkedIn, this can be done via groups. If you go to LinkedIn search and type in any keywords to find your audience, e.g. Growth Hacking for Startups:
Next step is to filter by groups:

and you should see a list of all groups that match your search criteria:
When looking for groups, the more niche the better. With Phantombuster you can only scrape the first 2500 people and so you might as well try and find a group with less than 2500 in it.
Also, the groups with a huge amount of people are often not well managed and so the quality of people in them that could become your customers will be very low.
Click on the group that you like and request to join:
You can only scrape groups using Phantombuster once you are a member of the group and so important to join first.
Once you have been accepted into the group the layout will look like this:
💡 Quick tip: If you want to find the groups that you are already part of, go here:
If you click on 'see all' you can see all the members of the group and you could manually one by one start messaging and connecting with them.
However, I don't have time to message everyone individually and so I want to automate this process. This is where Phantombuster comes in.
Go to Phantombuster, click Phantoms then choose LinkedIn: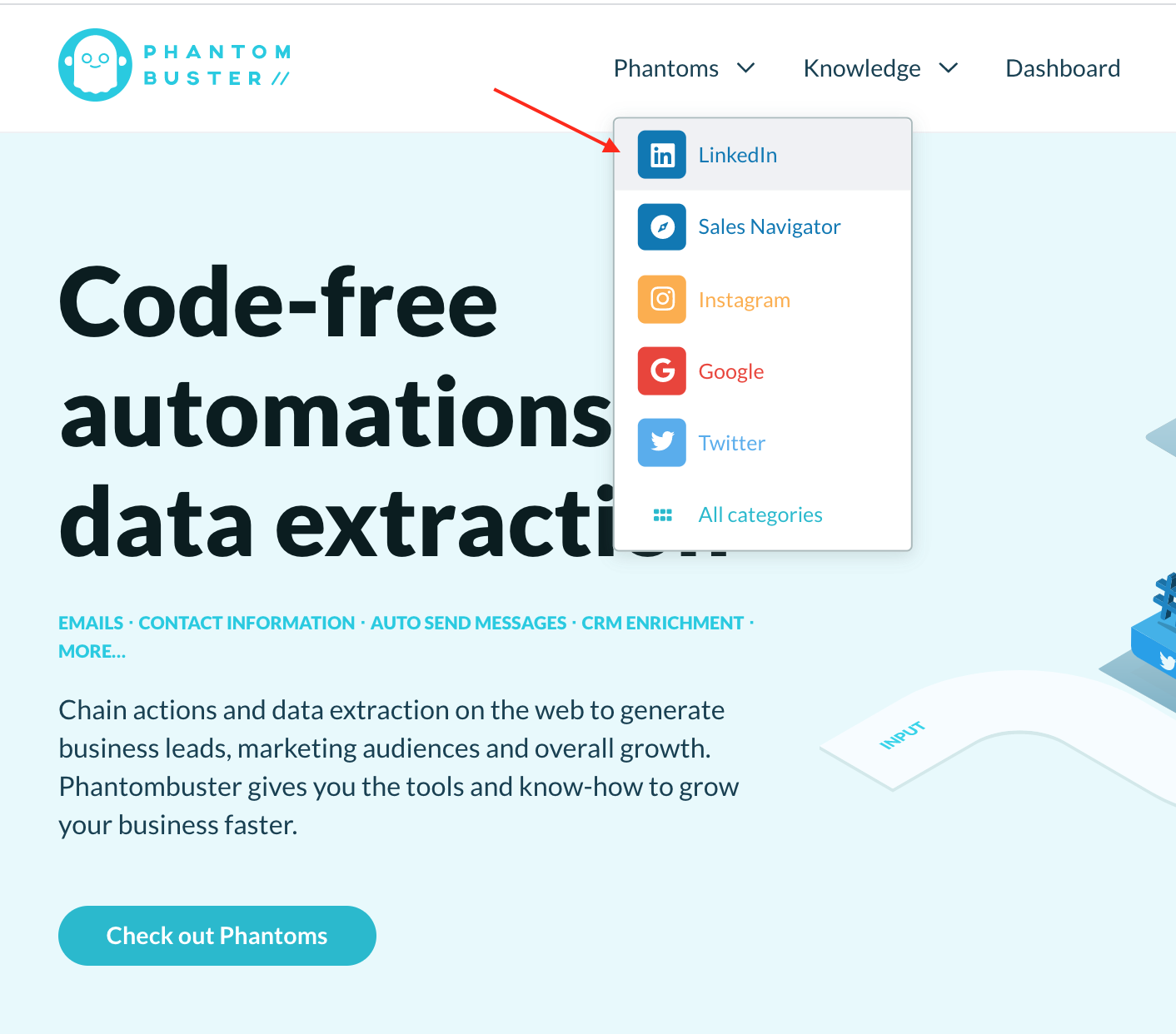 In the search on the left choose 'group' and click on 'use this phantom' for Linkedin Group Members:
You should have already installed the chrome plugin and so next step is to click 'connect to LinkedIn' and it will autofill your LinkedIn session cookie: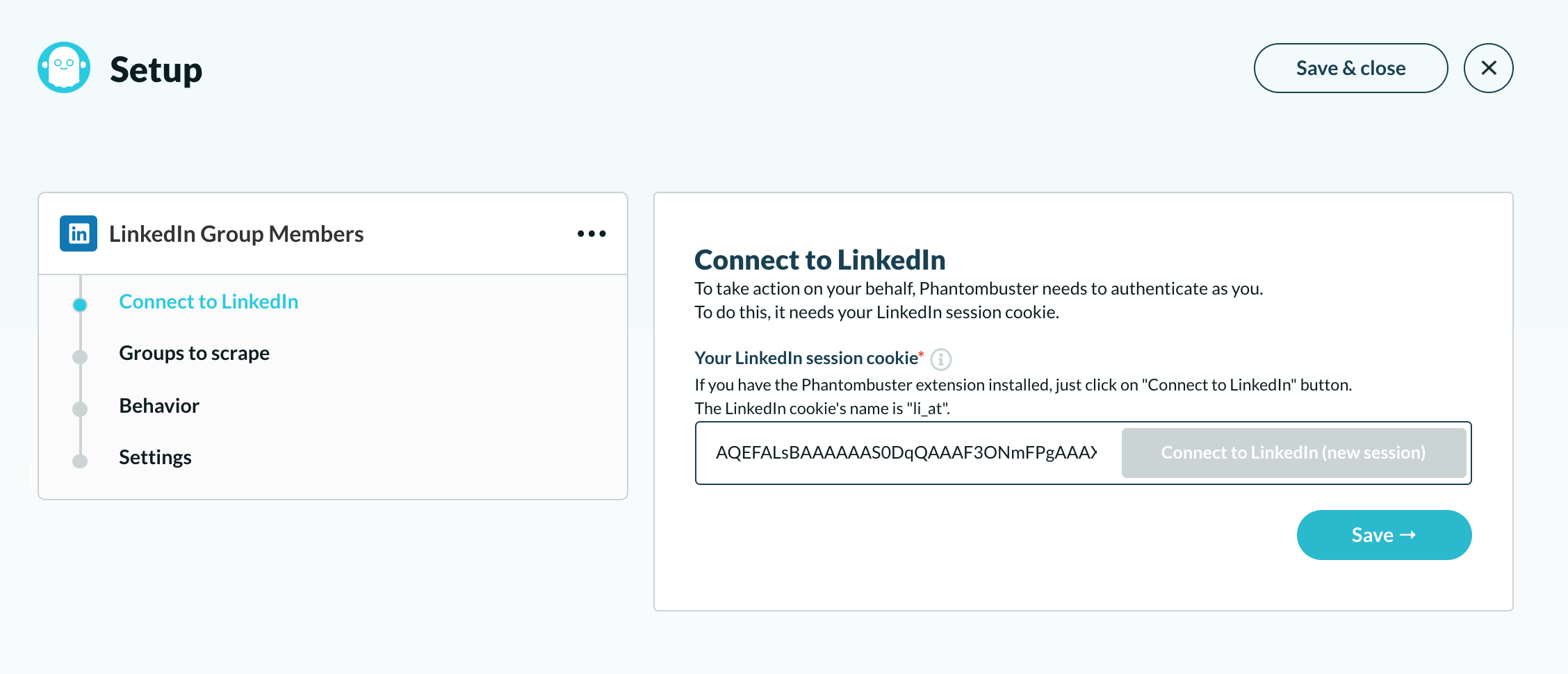 Click 'save' and then next step is to choose the group you want to scrape. Go back to LinkedIn and copy the URL of the group that you are already a member of:
Copy that URL in to groups to scrape: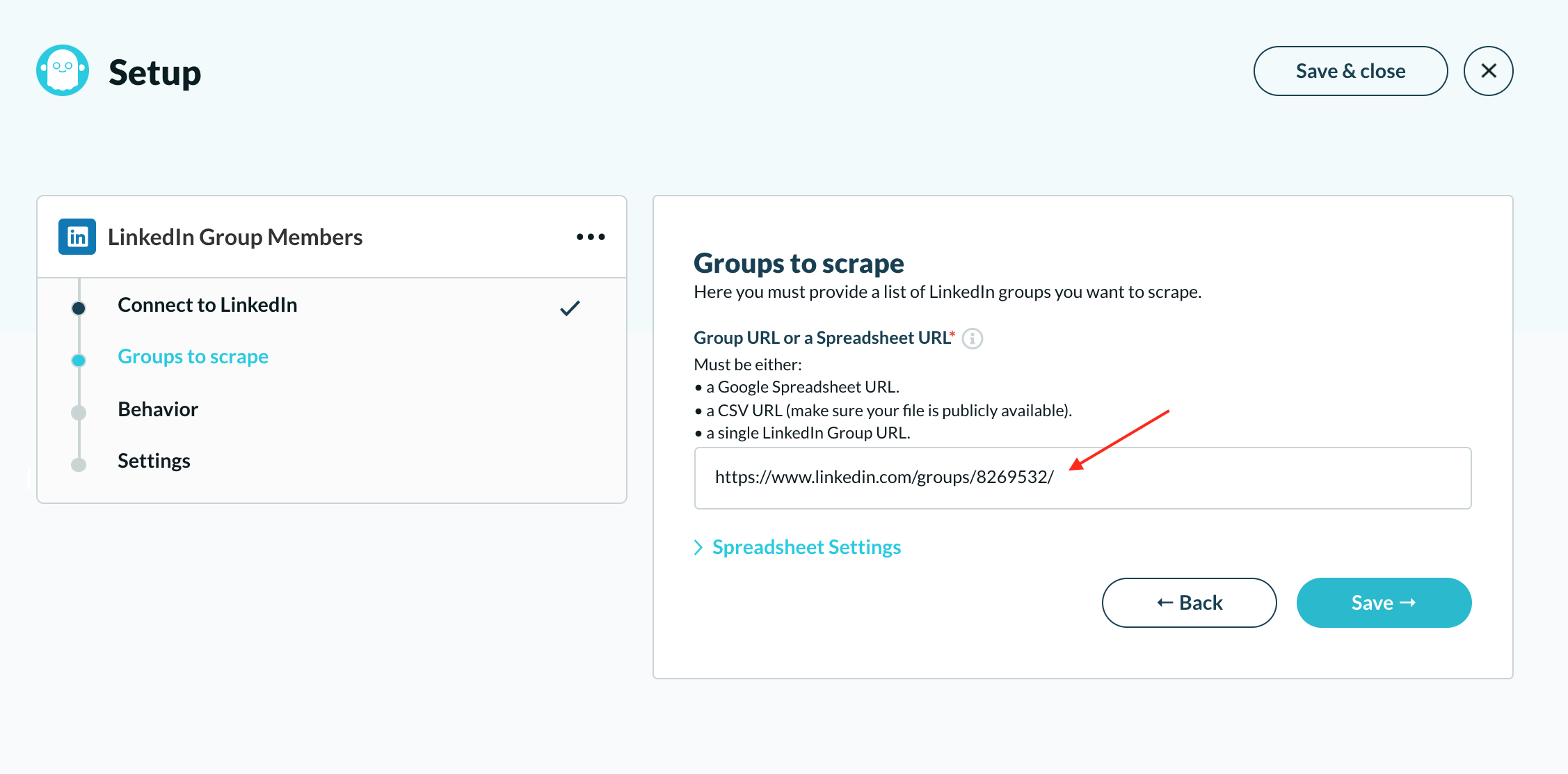 You don't need to edit any spreadsheet settings as you are scraping directly from the link instead of a google doc with lots of links, and so next step is to click 'save' and add behaviour settings: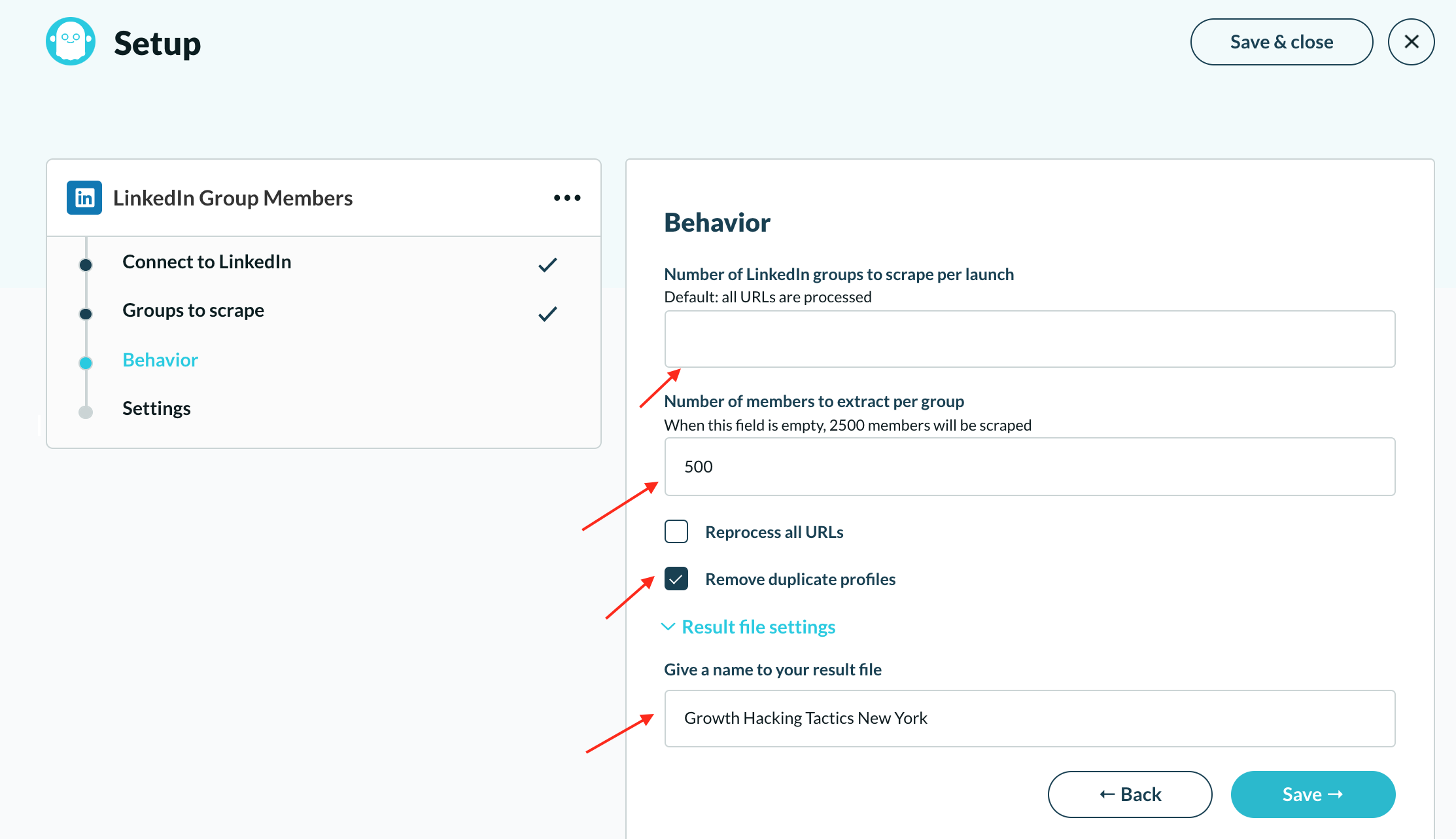 Leave the top section blank as you are only scraping 1 group. I would advise to only scrape 500 people at a time to not overload your LinkedIn account, slow and steady wins the race!
Choose to remove any duplicate profiles and then name the file. I usually call it the same name as the LinkedIn group to make things tidy and easy for me. Then click 'save'.
Next steps are to choose manual v automated in how you want to scrape:
I would advise manually to scrape all at the same time but you can read more here on how to use repeated scraping on Phantombuster
Click 'save' and you are ready to launch.
Click 'launch' and watch the magic happen 🧙‍♂️:

Once you click 'launch' you will see your account syncing with Linkedin, connecting with the group then scraping the data:
From here you will be able to download your CSV and import the data directly into Prospect Labs to run a campaign. First download the CSV:
If you want to preview the data to make sure it looks ok instead of opening then go to:
and then you can see what it looks like:
Now you have scraped all the data, it is time to import it into Prospect Labs. Once logged in, go to search:
Click 'add new search':
Then choose 'import contacts from CSV'. Give the search a name then import the CSV file you have just downloaded from Phantombuster:
Next step is to match up the fields to make sure the right placeholders are used when importing the data:
💡Quick tip: When matching up the fields you will see that I choose the LinkedIn Group as a 'customer placeholder'. You can learn more on how to use this here to make your LinkedIn messages more bespoke:
Once the data is imported, it will take a couple of minutes to load up then if you click 'view' it will look like this:
Don't worry if any of the people say 'null' in their name. This just means you have not matched up their full name but this is not a problem. Before Prospect Labs send a connection message it views the profile and pulls in all data.
This means that even if it says 'null', when you send the message it will still use the correct first name placeholder.
Final step is to 'assign all results to a campaign'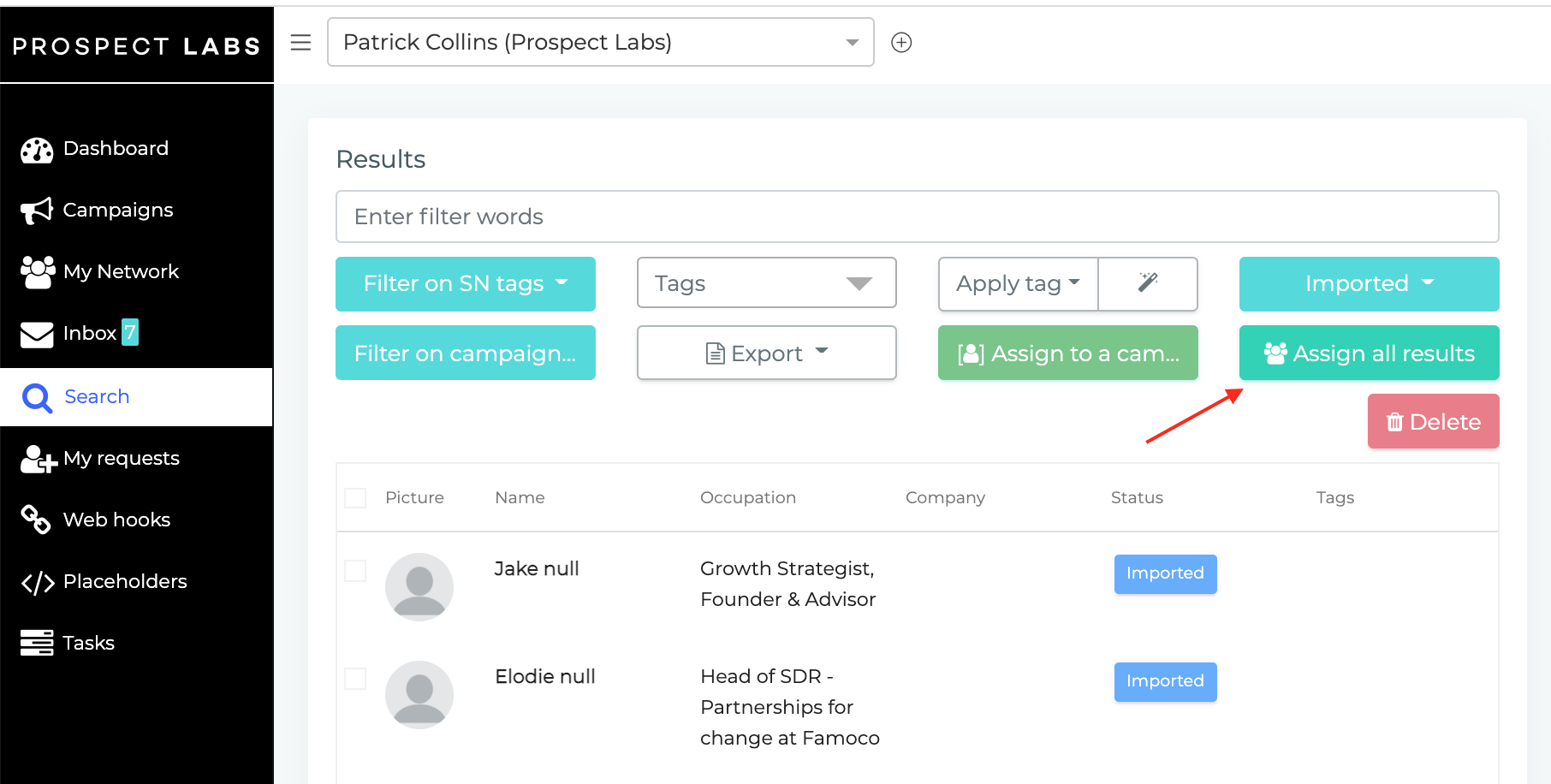 Then choose the campaign you want to message these people with and click 'add selected contacts to the campaign'
Now that the contacts are added you can make sure your messages are set up, then launch the campaign 🚀
Need some inspiration and how to connect with people?
Scraping Linkedin Likers using Phantombuster
LinkedIn Learning is an online platform where you can find a range of digital courses to study:
However if you click on a course that your target audience may be studying, e.g. 'lead generation':
You will be able to filter by all courses and by level of expertise. Click on one of the courses, then in the top right you will be able to see all the people who have liked the course:
In this course, there are 969 people who like the course. If you click on them you will be able to see individually all the people.
Again this is where Phantombuster comes in. Go to Phantombuster.com, phantoms, and search for 'learning' :
then same as previously just follow the steps to scrape everyone that likes these courses and upload them into Prospect Labs to target them:
These strategy has worked amazingly well for us using this connection message:
In terms of the results, we are seeing over 50% connecting and 40% replying:
Finding the right audience for Linkedin campaigns is key and often just searching for job title and industry is not enough. Try to find people based on interests or motivation such as through Groups or LinkedIn Learning groups and you will find that the engagement and interaction is much better.
Good luck testing this out and if you need any help setting this up or training you on it just book a call with our team or get in touch on live chat and always here to help you!