At ProspectLabs, one of our core values is being efficient and effective in everything we do. As Lead generation is not just about LinkedIn but also about being on top of all the company operations, I wanted to focus on software outside of LinkedIn that could help you.
One of the many ways we manage to stay organised in our day-to-day operational activities is by using Notion.
Notion is an all-in-one workspace app that lets you write, plan, collaborate, and get organised within your team - all in one place, within one software. From meetings to daily tasks and notes, Notion is a simple way of organising everything in one single place.
Instead of having your notes spread out between Google Docs, Trello, Evernote, and other software, Notion seamlessly blends your workflow. Projects become easier to track and manage, and you no longer have to go through different tools to stay organised.
Notion is so confident in that, in fact, that they even offer the option to switch from Evernote to their platform. In addition to that, the software also offers integration with Slack, the ability to embed Google Sheets, and to connect with many other apps through Zapier.
For us, this is ideal as we also use all of those other apps and Notion allows us to have one central place for being organised.
To use Notion optimally, we break it down to the following categories within the software:
Roadmaps
Tasks
Content Calendar
Templates, Notes, and Other Text
If you want to get a glimpse of our behind-the-scenes planning and how we use Notion to stay organised - read on.
Defining productivity
In each of our tasks, we always try to be effective and efficient.
If there's a task we do not manage to finish in time, it gets pushed to the next day and becomes a priority. It's important not to lose track of what's important and have our priorities set.
Time management looks different for everyone and there are countless tools and techniques to manage your time effectively. As such, being productive looks different for everyone. 
For some, this means staying up the whole night to make up for missed deadlines and unused time. However, we believe that if it comes to that in the first place, then we've already failed the task.
Instead, our approach is to plan ahead the day before. This way, when we get to the office the following day, we already know what tasks need to be done.
We look at efficiency as doing things right, and effectiveness as doing the right things.
Doing both requires planning and careful time-management.
To accomplish this, we set careful deadlines on Notion for each task, and make sure to categorise everything throughout the week in advance.
Here is how we manage to stay organised and productive through the tool.
Using Notion
Because Notion keeps all of the productivity tools in one accessible platform, it's easy to cover everything you need within the single platform. 
Notion provides the building blocks and you can then create your own layouts, depending on what you're trying to accomplish. To get the most out of Notion, you first might want to define what you're looking for in a workspace.
For us, we want to make sure all of our team members are on the same page when it comes to project management. Through Notion, everything we need to know about our clients (notes, tasks, calendar, etc.) can be found in one single workspace that everyone can access.
Notion works with blocks and can be formatted in any way: text, images, checklist, PDF, so on. 
It's an extremely versatile tool and can be used any way you want. Chances are, you probably won't need all of its features, because they're so many.
If you want to set up Notion that's just right for you but you're not sure where to begin, check out Notion Pages for inspiration.
Because every project and client needs are different, we make sure to dedicate each workspace to one specific project (or client) and that only the team members working on it and the respective clients have access.
This way, we have an overview homepage set up for the client that describes our goals working together, our mission and service, and other important information. The client then gets access to it and together, we can track the progress and measure the tasks as we complete them in real-time. See an example of how we set up onboarding using Notion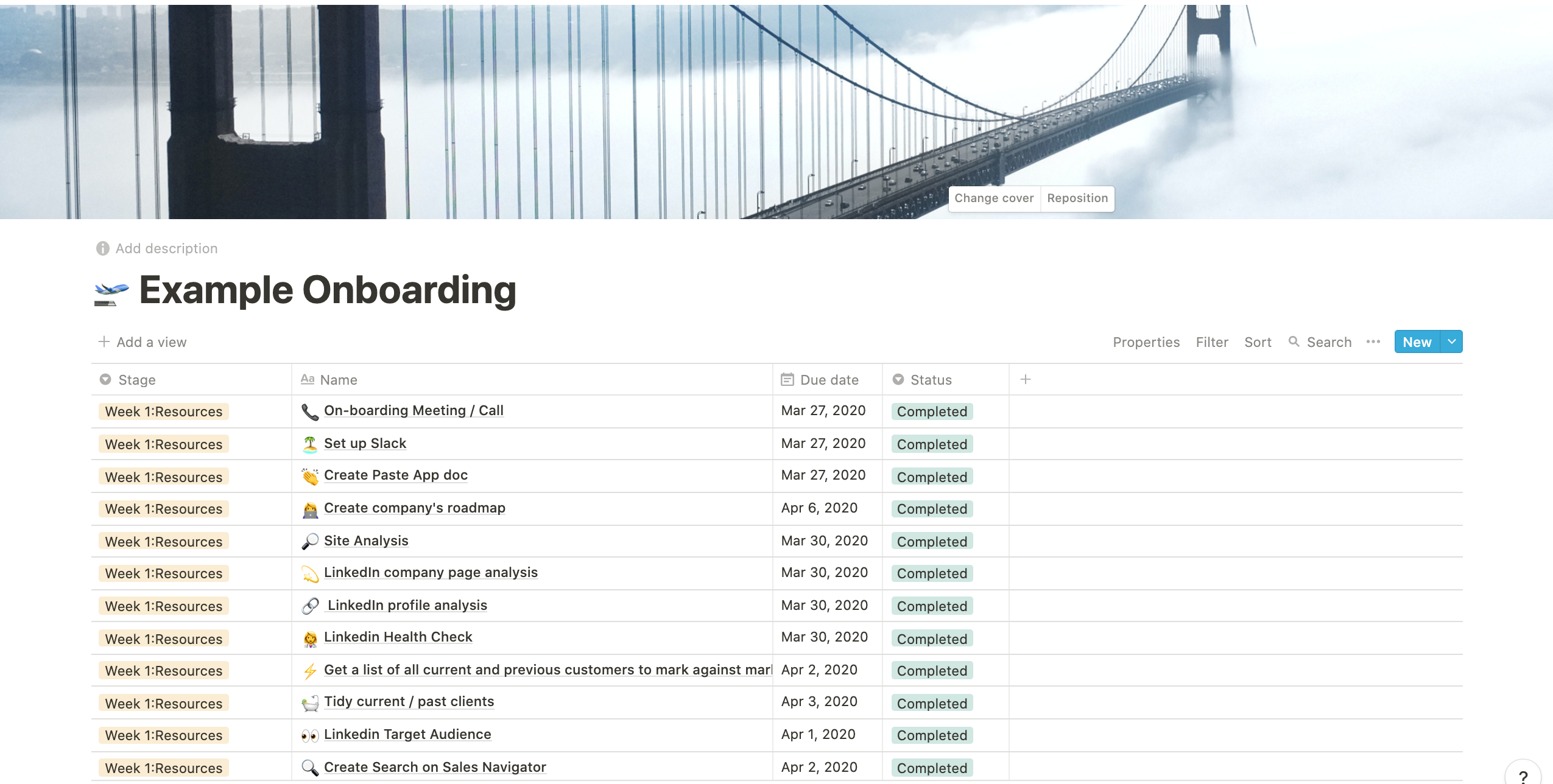 This is a great way to work with clients without having to send daily reports. Instead, they have access to all the information needed - including our daily tasks, routine, content calendar, and more.
One of the best things about Notion, for us, is how accessible it is. It syncs your data automatically across multiple platforms - allowing for collaboration in real-time.
Staying organised doesn't stop at work either.
Notion's dashboard allows you to keep your work and personal life separately. You can keep track of work and your own personal notes (daily tasks, notes, etc.) which can be easily accessed from your office or home computer.
As mentioned above, the uses are practically limitless.
To get the most out of the software, however, this is how we approach staying organised within Notion.
Roadmaps
For projects and tasks that span across months, we visualise them using roadmaps.
A great roadmap should be able to track all of your milestones that take a longer time to complete than your daily tasks.
If you want to visualise your own custom milestones, check out the official Notion guide on Roadmaps.
Here is what our approach looks like as an example template we set up for companies we train:
Each task within the stage has its own description, due date (can be a specific day, or the whole month) and can even be given other properties if needed.
You can also filter the roadmap section by calendar, board (by assignees), and tables.
Depending on the project or client, we breakdown the roadmap through months, tasks to do, and brainstorming notes.
In short, our approach to roadmaps is fairly simple.
Anything that sounds doable, we insert within the planned month, give a specific deadline and assignees when needed. Afterwards, we keep track of our progress throughout the month and have meetings based on how our milestones are going.
For long-term projects (whether it be weekly or monthly), this is a great way to organise everything in one place so that the whole team knows where to find it. Everyone can comment there to give updates and add any comments or relevant links in the description.
Tasks
If roadmaps span out across multiple weeks or months, we categorise tasks as one-off actions that need to be done for a specific date.
We filter them based on status (either pending or completed), make sure it's assigned to the right person with the right due date, and then, either follow up or push it back accordingly. 
Like with the roadmap, the tasks section can be filtered by status, timeline, calendar, and more.
To make sure we know what to do in advance, at the end of each workday, we look back at our tasks. Anything that is overdue gets pushed to the day after.
This way, when the next day comes, we get a reminder from Notion saying a certain task is due today. 
Content calendar
For planning and organising content and blog posts, we found that setting it up as a calendar on Notion is the best way to do this.
To be more organised, we create 2 separate posts for each piece of content: one the day it's meant to be written, and the other when it goes live. 
We typically aim to have the final draft the day it's meant to be written (in Notion: "(Write)"), and then go over any required edits before it's meant to go live (in Notion: "(Go Live)") on Sunday. This gives us plenty of time for any edits and then to go over it one last time before the final push.
This is especially useful for brainstorming any content ideas and being able to edit them and provide comments on the go. Depending on the content and the stage it is in, we assign either of the following statuses: idea, scheduled, in progress, completed, archived.
For optimal efficiency, we try to have a content calendar planned for the month ahead, if not already scheduled in advance.
Aside from content, it is also possible to set up a different calendar for daily one-off tasks (e.g. social media posts) throughout the week. This is especially useful for tasks that can be done in advance and scheduled for the future.
Being consistent is key here, so, it's a good idea to set the calendar in advance and know what is due when. Even if the post is going to be empty, you'll at least know when you should start preparing for it.
Templates, Notes, and Other Text
Finally, Notion also offers to begin with a blank canvas and customise it based on your requirements. For us, this usually means having a separate workspace for templates, meeting notes, software passwords, and more.
In terms of templates, we usually get a lot of repeating replies from automated LinkedIn and email marketing campaigns. Having a folder full of templates on how to reply back saves us a lot of time as they serve as a starting point to continuing the conversation.
For example, for our Facebook group campaign, we sometimes get a lot of messages saying that they're interested and would love to join. To save us the time of having to reply to everyone individually, we simply create a Q&A template that goes something like this:
"Q: Just sent you a request / sounds interesting, requested to join / will take a look, thanks.
A: Hi (Name), thanks for getting back to me, that's great news. I'll be approving all invitations and start adding more content soon. Looking forward to seeing you in the group."
Of course, each reply is different in every campaign and the templates only act as a starting point to each. We then try to modify it, in terms of the wording and the tone, so that it fits the right context. 
After running the campaign for some time, you start to get a sense of some of the more frequent replies you get back typically.
This is why it's a good idea to be prepared and have a template to shoot back with. As an added benefit, this saves a lot of time in the long-run of having to type out each message one-by-one.
Once we see consistency in the messages the templates we are using, we add them to Prospect Labs as a saved template. You can read how to set this up here: (Prospect Labs Reply Templates)
The passwords and meeting workspaces are more self-explanatory, as well as confidential.
Nevertheless, the beauty of Notion lies in its simplicity and intuitive look. With the meeting notes workspace, for example, for it to work perfectly, the formatting needs to be clear and easily accessible by everyone.
With Notion, this is definitely the case as setting up such a workspace takes little to no time, it syncs across different devices and apps, and most of all, you can share it with whomever you want to.
While there are countless other note-taking and task-management apps available, Notion combines that with its other all-in-one workspace features. So, as far as productivity and time-management go, Notion covers everything you'll need in a project.
Conclusion
All in all, anyone sick of the same old productivity and organisation platforms should definitely give Notion a try. It has a lot of valuable features and new ones are constantly being added that make our life much easier.
The clean and extremely customisable interface makes collaboration much easier and more convenient for everyone involved. Once the whole team is set on Notion with all the essential workspaces, there is not much else left to do.
Getting started with Notion is free and the personal plan starts at a flat rate of $4 per month. However they also do an amazing startup package that you can apply to here:
If you would like to become more productive starting today, we highly recommend using Notion as your next all-in-one project management tool and some of these templates may help you to get set up:
Company Home: Think of this is as the virtual office for all your online team
Company Culture Handbook: An example template for you to set consistency in how your company is ran internally.
And finally my two favourite resources if you are ready to really set up Notion in detail:
Notion VIP: Updated and custom built dashboards for you
Red Gregory: Amazing Custom Notion templates
Indify: Custom Widgets for Notion